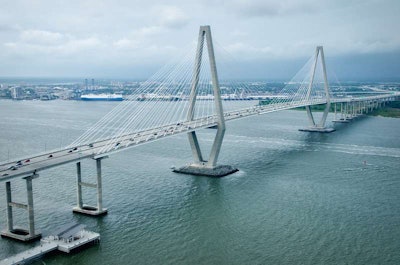 The South Carolina Department of Transportation (SCDOT) has received a $787,104 grant from the Federal Highway Administration's Accelerated Innovation Deployment Program for demonstration programs for "innovative road and bridge work that will lead to better, safer infrastructure."
SCDOT will use the funds for its structural health monitoring (SHM) program to use in visual bridge inspections, the department said, to see if the technology is viable in the field.
"We thank FHWA for recognizing SCDOT's efforts to be innovative and on the cutting edge of technology, particularly in the area of infrastructure safety," said South Carolina Secretary of Transportation Janet P. Oakley. "This grant will expand our current program and increase our capabilities for a wider range of structures. An expanded SHM program will further assist us in making more cost effective structural and cash flow decisions."
The department says it has been using the SHM technology for several years, resulting in $700,000 in repair savings on three bridges, including the Ravenel Bridge. Engineers use it on a day-to-day basis to monitor the latter.
As a demonstration projects, SCDOT will be sharing data from the SHM program with other states interested in using the technology.