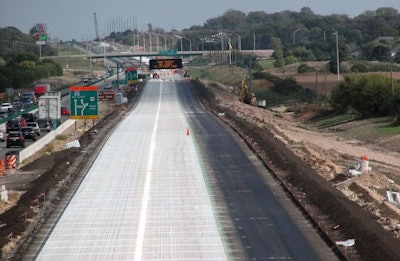 This week the Illinois Tollway (IT) is shifting traffic on the eastern side of the Jane Addams Memorial Tollway between the Elgin Toll Plaza and Tri-State Tollway to prepare a work zone for the second phase of the Interstate 90 Rebuilding and Widening Project.
The Jane Addams Memorial Tollway is a section of I-90 and the Tri-State Tollway is a section of I-294.
The traffic shifts will last until late March and IT will keep three lanes of traffic open in both directions of the 25-mile segment of highway. The organization said most traffic would be shifted to the left, with the working being done during off-peak and overnight hours.
The first phase of the I-90 project was completed in 2014 and stretched between I-39 in Rockford and the Elgin Toll Plaza. Officials estimate the second phase will be completed in 2016. The total cost of both phases is estimated at $2.5 billion.
"To minimize the impact of construction on our customers, we are working to maintain the same number of lanes and access to all interchanges as we begin to rebuild and widen the eastern segment of I-90," said Illinois Tollway Executive Director Kristi Lafleur. "When we're done, drivers will have a new, wider roadway that will improve travel between Rockford and Chicago."
Progress on the project can be viewed on the IT website.