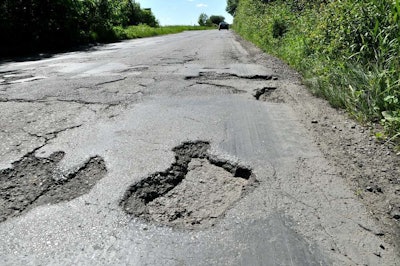 With transition weather arriving (i.e., swings in temperatures from "warmish" to cold) the Missouri Department of Transportation (MoDOT) is asking for motorists to report pothole locations on state highways.
Fluctuations in temperature are "pothole problematic" because melting snow and ice settle into cracks and refreeze, which can expand cracks and even raise portions of roadways and separate sections and chunks, resulting in a pothole.
"Our goal is to patch potholes as quickly as possible and get us through the transition to warmer weather," said Elizabeth Wright, MoDOT state maintenance engineer. "MoDOT's crews will repair minor road damage quickly, but we need the public's help to spot those potholes and let us know where they are."
To report potholes, drivers can call MoDOT's Customer Service Center at 888-ASK-MODOT (888-275-6636, visit the Report a Road Concern website, or email comments@modot.mo.gov.