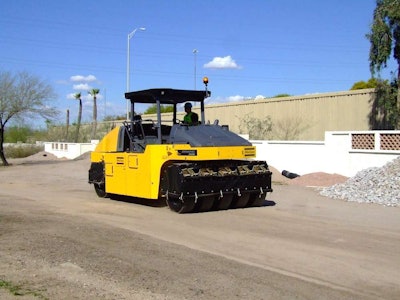 Atlas Copco's Dynapac CP2700 pneumatic roller emphasizes one of the company's newest core strategies: modular design to improve servicing and minimize how much training an operator needs between similar machines.
The machine, which works in sealing applications and asphalt finishing in addition to soil compaction, was on display at the company's dealer event March 4 in Pheonix.
Focusing on improving operator usability, Atlas Copco added a rotating and left-to-right sliding seat and steering assembly to the new machine, much like the system used on the company's other Dynapac machines.
These features offer an improved line of sight. Creature comforts also are available with an enclosed cab complete with climate control options.
The engine is Tier 4 Interim compliant and offers a gradual start and stop system providing smooth operation, which the company says aides in providing "high-quality finished surfaces."
Other features include:
Dual-circuit braking system exclusive to Dynapac, which maintains full braking power if one circuit is disabled.
Optional DCA-A compaction analyzer, which prevents overcompaction, and optional temperature sensor. This combination can produce "optimum density and surface texture while providing full statistics and documentation." Operators can examine the machine's rolling pattern by playing it back and either print out a report or export it as a PDF file.
Optional temperature sensor
7.55 feet compacting width
59,000 pound maximum operating weight