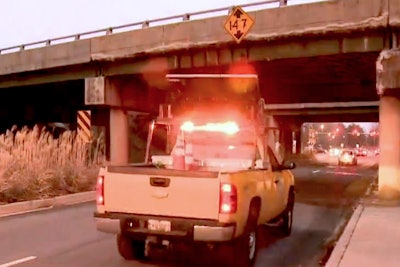 Acting Maryland Transportation Secretary Pete Rahn has ordered the State Highway Administration (SHA) and the Maryland Transportation Authority (MDTA) to inspect all state-owned bridges of the same age and condition as the Capital Beltway I-495/I-95 bridge.
The bridge dropped debris on a motorist recently though no one was injured in the incident.
The department says the order applies to 27 bridges, a list of which can be found in the official statement. All of the bridges were built before 1969, are in similar condition, and have traffic passing beneath. Inspections began February 12 and are "expected to take several days."
"Motorists should not have to think twice about driving across or under one of our bridges," Rahn said. "These targeted statewide inspections will help us immediately identify any bridges in need of repair, with the goal of preventing what happened on Tuesday from occurring again. I want to extend my sincere apologies to the driver involved in Tuesday's (Feb. 10) incident. I am grateful she was not injured."
According to the department, Maryland has some of the fewest structurally deficient bridges compared to other states in the country. The SHA and MDTA maintain more than half of the approximately 5,300 bridges in the state, 82 of which are rated as structural deficient. All of those bridges are in the design phase of rehabilitation or are being repaired.
A bridge rated as such is safe for travel, but is in need of rehabilitation or replacement, the department says.