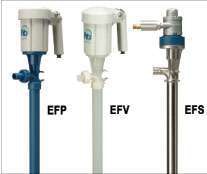 Seal-less, lightweight drum pumps
The new EF Series of drum pumps from Gardco includes a variety of high- and medium-viscosity drum pumps, as well as high- and low-reduction pumps. They offer medium performance with light-viscosity drum/barrel pumps for container-to-container transfer of acids, corrosives and chemicals, and are seal-less and lightweight. They are made of polypropylene, pure PP/PVDF or 316SS tubes and have dual-speed adjustable motors with interchangeable motors and tubes. The pumps are 1.2 SG with a 300 cP and maximum temperatures of 150 degrees F (EFP), 160 F (EFV) and 212 F (EFS).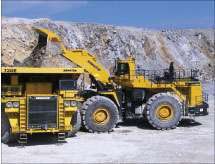 Dual-mode active working hydraulic system
Komatsu America Corp. has introduced the WA1200-6 wheel loader with environmental, technological and ergonomic enhancements. The machine boasts a Komatsu SAADA16V160E-2 engine that delivers 1,892 gross horsepower, and the engine net output has been increased 132 horsepower to 1,765 net horsepower at 1,800 rpm. Improvements include an engine rpm control system with auto deceleration, and a new variable transmission cut-off system and dual-mode active working hydraulic system. The use of an electronic governor results in low fuel consumption, with quick throttle response to match the machine's powerful tractive effort and fast hydraulic response. The dual-mode active working hydraulic system allows the operator to select between normal and powerful loading. An additional torque converter cooler also has been added as standard equipment to reduce oil temperature and increase cooling capacity. Two additional air cleaners were added and the size of the elements increased to 15 inches for more capacity.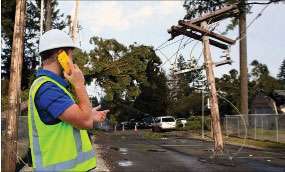 Handheld field device with integrated GPS
Trimble has added its new Juno SD handheld to the company's pocket-sized Juno Series of lightweight field computing devices with integrated global positioning system (GPS) technology. All models in the series include integrated GPS, wireless LAN (Wi-Fi) and Bluetooth connectivity, a 3-megapixel camera, a 533 MHz processor, 128 MB of onboard memory, a MicroSD/SDHC memory card slot, an all-day battery and a 3.5 inch display. The Juno SD handheld builds on this core functionality with the addition of integrated 3.5G High-Speed Downlink Packet Access (HSDPA) cellular SMS and voice capability. Using the data transmission capabilities of the Juno SD handheld, mobile workers can access information in the field such as work orders, map data, reference files, emails and Internet resources without making a trip to the office. Mobile workers can also update mission critical information in real time that can lead to increased overall data accuracy and productivity. Users of the device can now keep in contact using the new cellular voice capabilities, eliminating the need to carry a separate mobile phone. Juno Series handheld users can achieve 2- to 5-meter GPS positioning accuracy in real time with Satellite Based Augmentation Systems (SBAS) such as the U.S. Wide Area Augmentation System (WAAS), European Geostationary Navigation Overlay System (EGNOS), and Japan's Multi-Functional Satellite Augmentation System (MSAS). When higher accuracy is required to meet company or regulatory standards, field data collected with Juno Series handhelds can be post processed with office software such as Trimble GPS Pathfinder Office or Trimble GPS Analyst ESRI extension that includes Trimble DeltaPhase technology to achieve 1- to 3-meter accuracy.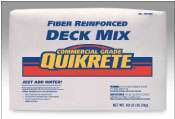 Entrained, fiber-reinforced deck mix is STRONG
Quikrete Fiber-Reinforced Deck Mix is an air-entrained, normal-setting, fiber-reinforced material designed to repair highways, bridge decks, concrete parking decks, balconies and other concrete surfaces as a patching material for commercial applications. The mix is made from blended cement, alkali-resistant fibers, graded aggregates, internal corrosion inhibitors and additives approved for use in structural concrete. For additional stability, the product is air entrained, meaning billions of microscopic air cells per cubic foot relieve internal pressure on the concrete when water freezes. The mix reaches a compressive strength of 1,800 psi after 24 hours and 6,000 psi in 28 days. One 80-pound bag of the deck mix will yield about 0.6 cubic feet at a thickness from 1/2-inch to 2 feet, according to the manufacturer. The mix is also available in a polymer-modified formulation.
Remote monitoring telematics is standard
Volvo Construction Equipment now includes its remote monitoring telematics system as standard on larger machines (wheel loaders weighing more than 10 tons, excavators more than 12 tons, articulated dump trucks and motor graders) in the U.S. and Canada. These models will come standard-equipped with CareTrack, the Volvo Construction Equipment telematics system, and also with a free three-year CareTrack customer subscription. CareTrack communicates using a GSM/GPRS mobile network and/or satellite technology to send comprehensive, real-time proactive reporting. Data is available securely to any remote online connection.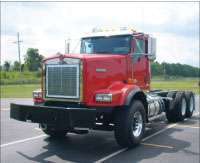 Power take-off option
Kenworth Truck Company has introduced a new front engine power take-off (FEPTO) option for the Kenworth T800, which is designed for municipal and vocational fleets that require a front engine PTO for snowplow, dump, mixer, refuse, crane and other applications. The configuration also provides a front-frame extension for applications requiring front-mounted equipment, such as hydraulic rams or hose reels. The truck uses a new hood designed to provide an increase in cooling module size without having to raise the cab height. The grille is mounted to the 1,440-square-inch radiator in a fixed position, allowing the hood to be tilted for daily under-hood inspections and helping prevent the grille from bumping the snowplow, pump or other front frame-mounted equipment. The extended front frame rails are available in sizes of 10-3/4 inches by 3/8 inch, 11-5/8 inches by 3/8-inch and 10-11/16 inches by 1/2-inch, with a 66-inch and 73-inch bumper setting. An optional crankshaft-driven adapter can be ordered to power the front engine PTO driveshaft.
Torque Wrench Pump: Fast and powerful
The Super Velocity Torque Wrench Pump, SV100, from TorcUP offers continuous-speed ratcheting and power torque. An upgrade to the EP1000, the industrial pump integrates a new style of roll cage and different configuration of the gauge setup. The handle of the pump is no longer a part of the shroud, but is now a part of the roll cage. It also features built-in circuitry that allows the user to choose the tool being used on the pump, and it automatically adjusts the timing to be correct specifically for that tool. After this, the tool just needs to be put on the nut, and the pump will continuously advance until the bolt starts to tighten. The pump also knows when to stop by sending the tightening of the bolt, enabling the user to finish the application to achieve proper torque.
An innovative 'green' sound barrier
Centria's Eco Sound Barrier system has received the American Society of Civil Engineer's Charles Pankow Award for Innovation, an award that "celebrates collaboration in innovative design, materials or construction-related research and development put into practice in a sustainable manner." The Cradle-to-Cradle-certified road product is a green alternative to traditional sound barriers. The sound barrier is made from 23- percent recycled material and is 100-percent recyclable at the end of its useful life. At 4.25 pounds per square foot, the sound barrier requires fewer trucks to transport it to the jobsite than traditional barriers, which ultimately cuts down on emissions and lowers a project's carbon footprint. According to Centria, total installed costs for Eco Sound Barrier are less than those of traditional precast barriers.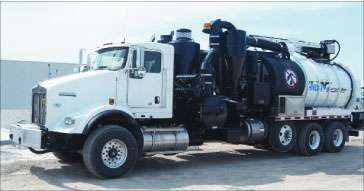 Thermal water tank for temp maintenance
Vactor Manufacturing now offers the SXP (superlinear XL polyethylene) insulated water tank for the Vactor HXX HydroExcavator. According to the manufacturer, the thermal water tank retains heated water temperature longer, reducing the likelihood of freezing during operation in sub-zero conditions and harsh winter weather. The lighter-weight tank also reduces fuel consumption while increasing payload availability and hauling capacity. The 1,200-gallon-capacity SXP tank features a double wall design consisting of a 3/8-inch-thick outer shell and a 3/8-inch-thick foam liner.
Resin system warns of hazardous turns
Transpo Industries has introduced the T-28 Color-Safe Surface and T-78 Polymer Crack Sealer. The T-28 is an acrylic-based resin system used for pavement area markings and anti-skid surfacing. It is typically used for demarcation of bicycle/pedestrian paths, bus stops/lanes and other specially-designated areas. T-28 Color-Safe Surface enhances skid-resistance, and its color warns travelers of hazardous turns and other high-accident areas on asphalt and concrete roadways. T-78 is a low-viscosity, methyl methacrylate resin system that is highly effective for sealing and filling cracks in concrete. It bonds well to the inner walls of cracks, restoring strength and preventing crack propagation. T-78 Polymer Crack Sealer is capable of rapid cure in a wide range of temperatures. The application process requires minimal labor costs, reducing the need for specialized equipment. Its fast cure time (less than one hour) assures a quick return to service, according to Transpo Industries.
Double-walled fuel tanks
Transcube has added the 100TCG to its line of transportable fuel tanks. The new double-walled tank offers a special total containment design to eliminate the risk of spills and contamination. Providing a capacity of 2,450 gallons, the 100TCG is useful for feeding large portable generators and many other applications that require a larger supply of diesel. The tank is designed with an inner fuel container enclosed within a steel-constructed, weatherproof outer wall that ensures complete integral secondary containment. All fill ports, pumps, fittings and connections are housed within a full height cabinet. The cabinet, which includes a drip collection sump, is completely within the tank's secondary containment area. The unit includes a PN16 flange for double-walled pipework requirements and is capable of feeding up to two generators while simultaneously fueling equipment with a separate nozzle.