Quite A BITE
Diamond milling teeth making a case
By Daniel C. Brown, Contributing Editor
Chewing up old asphalt is tough on teeth.
Replacing teeth on a milling machine is a time-consuming process, but it's a job that must be done regularly as milling machines do their work. Standard tungsten carbide teeth last from a few hours to a few days, depending on the material they're working in.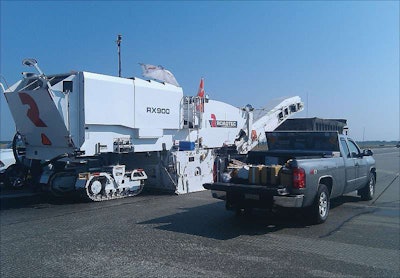 But now millers have a new set of teeth to choose from, with the advent of polycrystalline diamond teeth. And they're showing that they last many times longer than conventional teeth.
"Depending on the abrasiveness of the aggregate and the hardness of the asphalt, our teeth will last from one month to 40 weeks," says Jeff Crockett, business development manager for Novatek (novatek.com), the Provo, Utah-based R&D company developing the new teeth. "We've had some teeth last for a year."
Sure, but how much do they cost? "The diamond teeth are very expensive – they would cost in excess of $100 per tooth," says Crockett. "So, during the product development phase, we lease them on a tonnage basis – contractors pay us by the ton for the teeth." He says that the lease price is determined so that Novatek can recover some of the development cost yet still save the contractor money compared to buying standard teeth.
The teeth, now in a trial marketing phase by Novatek, have been tested by some 15 to 20 contractors in 10 states and in Europe in the Netherlands, Crockett says. More than 6 million square yards of asphalt have been milled with the new diamond teeth.
Wade Bortell, a superintendent with Mill-It Corp., a large milling contractor in Altamonte Springs, Fla., has fitted nine of his milling machines with the diamond teeth and plans to outfit a 10th machine. "We've got some mills out there with 1,000 hours on one set of diamond teeth. If we have 10 milling machines with these teeth, I think that speaks for itself. Our crews like them. They're not on the ground changing teeth all the time. We just don't have the downtime we would have with carbide teeth."
The key material in the new teeth is polycrystalline diamond that starts out as a diamond powder. Novatek uses a high-temperature, high-pressure process to fuse the powder into a solid mass and on to the tungsten carbide base. The highly wear-resistant diamond offers benefits to milling contractors that include a more efficient operation, reduced fuel consumption, less wear and tear on the milling machines, and a more consistent and better quality road surface that is attractive to departments of transportation, says the company.
There are two designs of the new teeth. One design fits the Kennemetal, Sollami and Caterpillar holders. A second smaller design fits a Wirtgen-style drum.
"Right now, there's a sticker shock over the price of these teeth – but the value more than compensates for the cost," says Crockett. v