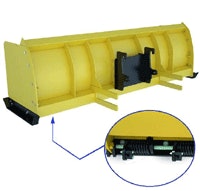 Box Plow – Machinability's Box Plows are economical and well suited to push large volumes of snow with ease. They can be hooked up to your bucket, or simply bolt on a quick coupler for any quick attach system, or skid steer mount on the market. Available in the BP35 series is the 8', 10', 12', and 14' models. The BP48 series is available in 12', 14', and 16'.
All models are now available with STEEL TRIP EDGES and cutting edges.
With replaceable bolt on wings and bolt on front braces, you can be rest assured that your plow will last you longer than conventional box plows. The aggressive 30 degree cutting-edge angle cuts hard packed snow with no down pressure to help you easily out plow the competition. Our custom engineered lower channel provides three times the strength of structural steel. Adjustable and replaceable shoes for the side plates also keep you plowing for years without having to weld on new edges.