Corecon Mobile is specifically tailored for convenient and immediate access to construction project information direct from a smartphone or Apple's new iPad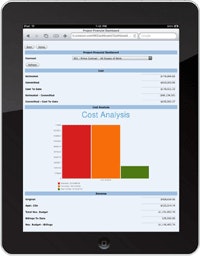 Huntington Beach, Calif., August 31, 2010 – Corecon Technologies, Inc., pioneers in web-based construction software, today announces its new product Corecon Mobile. Specifically tailored for use on smartphones and tablets with smaller screens, Corecon Mobile is compatible with Apple iPhone and iPad, Google Android, HP Palm, Microsoft Windows Mobile, and RIM Blackberry.
Corecon Mobile was developed for use with Corecon V7, an online estimating, project management, and job cost suite of construction software that was released in May 2010. A predecessor of Corecon Handheld for Corecon V6, Corecon Mobile was completely re-built from the ground up.
This latest release adds access to more types of construction project records, includes a new navigation system, and takes advantage of the latest mobile application technologies to improve overall performance. Furthermore, real-time updates to project information appear immediately in Corecon V7 without requiring synchronization.
"The launch of Corecon V7 and its platform back in May provided significant advantages to Corecon users. The Corecon Mobile solution extends this platform even further," says Norman J. Wendl, president of Corecon Technologies, Inc.
"Corecon V7 is accessible anytime, anywhere from a netbook or laptop computer, but it's not always convenient to carry these devices on a jobsite or to a meeting," explains Wendl. "Since nearly every construction superintendent has a smartphone in his safety vest pocket and executives are constantly on the go, Corecon Mobile puts the power to make quick and informed decisions right in their fingertips."
The AEC industry is just starting to capitalize on the usefulness of smartphone mobile technology for the built environment. According to the Gartner Group, by the end of 2010, 1.2 billion people worldwide will have smartphones with mobile applications being ranked as one of the Top 10 technologies this year. "Smartphones and devices like the Apple iPad are reinventing the way AEC professionals do their jobs today and in the future and Corecon Mobile is at the forefront of this trend," says Wendl.
About Corecon Technologies
Corecon Technologies is a leading software developer for the architecture, engineering, construction (AEC) and real estate industries. Utilizing the latest Web technologies, Corecon's suite of construction software provides constant connectivity anywhere, anytime whether using a laptop, netbook or mobile phone. The firm is the only company with a web-based suite of construction software on the market that provides business development, estimating, document control, contract administration, job cost control, scheduling and collaboration with integration options to popular accounting systems such as Intuit Quickbooks or SAP Business One®. Based in Huntington Beach, Calif., the company was founded more than a decade ago by construction industry experts who seek to design software that provides cost-effective, user-friendly tools to ensure successful project delivery.
For more information about CoreconTechnologies and Corecon V7, visit the company's website at www.corecon.com or call toll free at 1-866-258-6698.