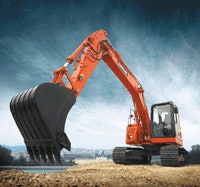 Near-zero tail swing on the new Doosan DX235LCR crawler excavator allows it to work close to buildings and in confined areas without sacrificing performance and stability.
With a tail swing radius of 5-feet-6-inches and a tail swing of just 3.75 inches over standard 31.5-inch shoes, the DX235LCR is designed to work on congested jobsites such as roadways and rail lines without blocking traffic in the adjacent lane or track. It also minimizes the potential for damage when working close to buildings or walls.
At the same time, the long carriage design of the DX235LCR offers exceptional stability in all operating conditions, including heavy digging and lifting operations.
Powered by a 166 horsepower 6-cylinder Doosan turbocharged diesel engine, the DX235LCR has an operating weight of 53,572 pounds with standard boom, arm and 1.2 cubic yard bucket.
Bucket breakout force is 33,510 pounds while arm breakout force is 23,810 pounds. Use of power boost increases both forces by about 5 percent, the highest of any excavator in this class.
Maximum digging reach is 32 feet 3 inches and maximum digging depth is 21 feet 11 inches. Dump height is 26 feet 1 inch.
Maximum travel speed is 3.6 mph in high range. Swing speed is 11.3 rpm. Thanks to high engine horsepower and high swing torque, the DX235LCR works efficiently on slopes.
Like all mid-size and heavy Doosan excavators, the DX235LCR has a standard auto idle feature, which reduces fuel consumption and noise and creates a more comfortable environment. The auto idle feature, which can be enabled at the operator's discretion, automatically causes the engine to drop to idle if the excavator functions are not used for a period of about four seconds. The engine automatically returns to the pre-set throttle position when the operator moves a joystick or a travel function.
The hydraulic system features a load-sensing piston pump and closed center valve that enable fine metering of hydraulic flow for smooth, precise machine control and reduced hydraulic noise. The boom and dipper arm cylinders are cushioned to provide a smooth, end-of stroke operation.
The spacious, comfortable cab on the DX235LCR features ergonomic controls and instrumentation. To reduce operator fatigue and make it easier for bystanders to communicate, the DX235LCR is designed to keep machine noise levels as low as possible. The noise level at the operator's ear is 71 dB(A) while the noise level for bystanders is a very low 103 dB(A).
Depending on the application, the operator can choose between three working modes — power, standard or economy. Power mode uses 100 percent of available engine and hydraulic horsepower for heavy work and fast cycle times. Standard mode utilizes 85 percent of engine and hydraulic horsepower for general work and normal speed. Economy mode minimizes fuel consumption without any loss of performance.
Engine service intervals are 500 hours and the DX235LCR also shares the extended lubrication intervals of the entire Doosan excavator range. The water trap and engine oil filter are both located in the hydraulic pump bay for easy access from the ground level.
The DX235LCR — like every Doosan machine — is covered by an innovative 48-hour parts guarantee. The program guarantees that if a "machine-debilitating" part is needed, Doosan will deliver this part to the end user within two business days or Doosan will pay for a replacement machine rental.
In addition, Doosan is now offering new financing and leasing options through Doosan Global Finance.
ABOUT DOOSAN HEAVY CONSTRUCTION EQUIPMENT
Doosan heavy construction equipment includes large excavators, wheel loaders, and articulated dump trucks. Doosan is a global brand with more than 100 dealer locations in North America, fast becoming a serious force in heavy construction equipment, and known for an unmatched dedication to service and customer uptime, and durable, reliable products. For more information on Doosan heavy construction equipment, visit www.doosanequipment.com.