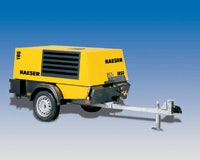 Kaeser's popular M50 Mobilair™ portable compressor powers a variety of tools and equipment with added fuel savings and proven reliability. This unit delivers 185 cfm at 100 psig, and now includes a push-to-load switch for easy starting– all at a very competitive price!
Features include the power-saving Sigma Profile rotary screw airend and a heavy-duty, 4-cylinder Kubota diesel engine to provide more air with less fuel. The M50's galvanized steel canopy allows quick access to all components for easy servicing and also reduces noise levels. All units also feature a cold-start battery and an instrument and lighting package.
Units are ideally suited for rental houses, construction, demolition, sand blasting, repair trucks, and off-site applications. For more information on the M50 or any of our Mobilair™ compressors or MobilairTools™, please call 800-777-7873 or visit us at www.kaeser.com/mobilair.