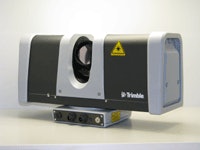 SUNNYVALE, Calif., June 17, 2010 – Trimble (NASDAQ: TRMB) announced today improvements to its Trimble® FX 3D Laser Scanner for applications requiring high accuracy and high quality data in industrial plant applications. The improvements extend the range of the Trimble FX to capture high resolution position information up to 80 meters. The increased range allows more data to be captured from each setup, reducing field time and extending the flexibility for use in a variety of applications. The Trimble FX also includes a new compact design and durable housing that combine to increase portability and flexibility when operating in confined industrial environments.
"With the enhancements to the Trimble FX and our broad portfolio of 3D laser scanners, Trimble is able to offer a range of solutions that address the various application needs for the industrial plant environment," said Patricia Boothe, business director for Trimble's Power, Process and Plant Division.
An Integral Solution for Plant Lifecycle Management
Managing a plant's lifecycle requires a clear understanding of the location and condition of the plant's assets. The Trimble FX 3D laser scanning solution can be used for a variety of industrial plant positioning applications:
• Capturing existing condition data for accurate project planning for basic and detailed design;
• Ensuring dimensions of high tolerance fabricated parts prior to transportation and installation;
• Verifying as-built construction for quality assurance and additional detailed design;
• Visualizing real world conditions for training and simulation;
• Monitoring plant assets and potential movement or deformation during use;
• Planning retrofit construction projects based upon high accurate data.
The Trimble FX with increased range is available now.
About Trimble's Power, Process and Plant Division
Trimble's Power, Process and Plant Division provides a comprehensive range of positioning solutions to transform the plant lifecycle work process—from design and construction to ongoing operation and maintenance.Trimble's 3D laser scanning hardware and software provides: increased productivity by delivering fast, accurate data with minimal impact to plant operations or project timelines; reduced rework by providing highly accurate existing condition data; and can contribute to improved worker safety through the fast acquisition of data when in the industrial plant environment.
Trimble's solutions are used in the oil & gas, power generation and manufacturing industries.
For more information about Trimble's Power, Process and Plant solutions visit: www.trimble.com/plant.