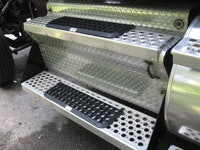 This New Product can provide Safety from injuries for all Trucking, Transport Carriers, Owner Operators, and Drivers.
Our Truck Rebound Mats are specially designed to reduce and diminish the amount of Knee, Leg, Ankle, and Back injuries which are so commonly associated with the repetitious actions of getting in and out of a commercial truck or semi Truck.
Our New Step Mats which are specially designed help remove the impact on your knees, as it take's the shock out of your step. They help elevate the pressure, the impact, and pain from going to your knees and back, during the action of getting in and out of a commercial truck or semi truck.
Many truck drivers are sustaining serious injuries. Having the added line of defense of these specially designed mats on trucks exterior steps, can help prevent these injuries.
This product truly performs at its best to avoid and to alleviate these types injuries.
It's a common sense solution for a serious problem.
The rebound step mats truck are made with quality materials. They are extremely durable, they install in minutes, are easy to clean and are made in the USA.
Edgeolite, specializes in safety for the commercial trucking industry. Edgeolite designs products that are safety enhancement related. The products are designed to bring a targeted line of safety and awareness to help resolve and prevent many safety issues.
Edgeolite looks forward to developing and distributing their products which promote more safety and less injuries, to owner operators, fleet owners , workers and to the whole trucking industry.
http://edgeolite.com/truck-mats.html