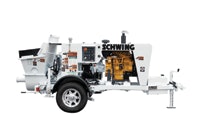 Schwing America announced that  Caterpillar engine's are now standard equipment on the company's SP-305, SP-750-15 and SP-750-18 stationary concrete pumps. "The worldwide acceptance of our popular line of stationary pumps fits with the CAT philosophy of comprehensive global service," states Jason Zignego, Schwing's sales manager for stationary pumps. These models with Cat power offer a versatile range of capabilities including shotcrete, grout and concrete pumping. "Caterpillar's reputation for reliability and performance fits perfectly with our customers' experience with our pumps, " Zignego adds.
The twin cylinders on the SP-305 is up to 30 cubic yards per hour with up to 625 psi applied to the concrete. The SP 750-15 and 750-18 offer outputs to 70 cubic yards per hour with up to 1100 psi on the concrete. These capabilities translate to high utilization on projects requiring horizontal and vertical pumping. The compact size of the models means easy towing with one-ton trucks. A standard remote control provides convenience on the jobcylinder, all-hydraulic pumps utilize exclusive Schwing features to pump concrete with up to 1.5-inch aggregate. The Cat diesel engine is a Tier 4 Interim model that capitalizes on Caterpillar's strengths in designing power units for the demands of the construction industry. In this regard the Cat-powered pumps benefit from up to five percent improved fuel efficiency, a boost in power and long-life durability. All Schwing stationary pumps are expected to be Cat powered for 2012.
The resulting performance of the Cat engines combined with the five-inch pumping.