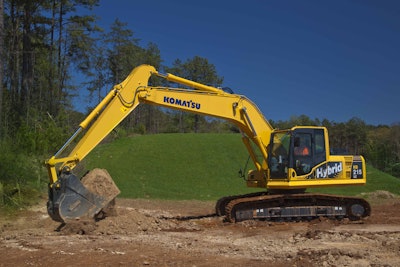 Komatsu's Hybrid HB215LC-1 hydraulic excavator qualifies for funding through the California Air Resources Board's (CARB) Hybrid Off-Road Equipment Pilot Project, Road Machinery, an equipment dealer that sells new and used equipment, announced earlier this month.
Under the program, special CARB Hybrid Environmental Incentive Rebates are available for HB215LC-1 excavator purchases. The project is being administered and evaluated by the University of California Riverside College of Engineering – Center for Environmental Research and Technology. Road Machinery is offering 0 percent financing for as long as 60 months to qualified buyers.
"Komatsu's Hybrid HB215LC-1 hydraulic excavator is the product of groundbreaking research and development," Steve Branson, president and CEO at Road Machinery, noted in a press releases. "With its unique hybrid system, NOx and CO2 emissions are lower and fuel requirements are up to 25 percent less than comparable models. The CARB program is a terrific opportunity to purchase the excavator at substantial savings and help improve the environment with lower emissions."
The Technology
The HB215LC-1 is powered by the Komatsu Hybrid System, which includes Komatsu's recently developed electric swing motor, power generator motor, capacitor and a 139 HP (104 kW) diesel engine. Komatsu developed its revolutionary hybrid system to work on the principle of swing energy regeneration and energy storage using the Komatsu Ultra Capacitor system. Komatsu's Ultra Capacitors provide fast energy storage and instantaneous power transmission.
The kinetic energy generated during the swing-braking phase is converted to electricity, which is sent through an inverter and then captured by the Ultra Capacitor. This captured energy is then discharged very quickly for upper structure rotation and to assist the engine as commanded by the hybrid controller when accelerating under workload conditions.
The Specifications
The HB215LC-1 has an operating weight of 48,175 lbs. and a bucket capacity of 1.57 yd³. Komatsu's second-generation hybrid excavator has been designed for even easier serviceability. The HB215LC-1 has an additional service valve for use with hydraulic attachments and a pattern change valve as standard equipment. Also, the hybrid power train components are backed by a five-year/7,000 hour warranty.
The HB215LC-1 comes standard with the latest KOMTRAX technology, which sends machine operating information to a secure website utilizing wireless technology. Data such as operating hours, location, cautions and maintenance alerts are relayed to the web application for analysis. The KOMTRAX fleet monitoring system increases machine availability, reduces the risk of machine theft, allows for remote diagnosis by the distributor, and provides a wealth of other information to drive business efficiency and productivity.