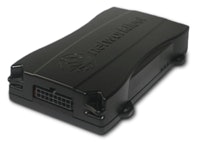 SAN DIEGO – Networkfleet, a leader in wireless fleet management, today announced the launch of the Networkfleet 5000 Series of fleet tracking hardware. Compatible with light, medium and heavy duty vehicles, the 5000 series offers 24/7 visibility into fleet assets, enabling fleet managers to easily locate vehicles in real time and monitor specific vehicle data such as mileage, speed, fuel consumption, and diagnostic trouble codes to improve operations and and reduce costs.
The Networkfleet 5000 Series offers these features and benefits:
Vehicle Diagnostics: Patented remote diagnostics capabilities on the 5500 enable monitoring of diagnostic trouble codes, ignition status, speed, odometer, fuel efficiency and more.
Easy Installation: Plug & play design provides for easy, quick installation without splicing wires.
Internal Antenna: Both the GPS and cellular antennas are contained internally in the device. An optional window-mount GPS antenna is also available.
Serial Port Functionality: The serial port allows for integration with compatible Garmin devices using a Garmin FMI cable and also integrates with laptops and other devices by providing a constant NMEA data feed.
Sensor Detection: Includes sensor ports for monitoring various voltage events occurring within the vehicle, such as Power Take Off (PTO) engagement/disengagement, secondary engine on/off, and door open/close.
"Networkfleet's new 5000 Series provides the foundation for future enhancements to Networkfleet's advanced diagnostic capabilities as well as other new service offerings," said Keith Schneider, president and CEO of Networkfleet. "Networkfleet has a long history of designing industry leading automotive grade telematics devices, and this latest evolution shows our continuing leadership in this area."
About Networkfleet, Inc.
Networkfleet, Inc. is a leading provider of wireless fleet management services that improve fleet efficiency by reducing fuel use, emissions and maintenance expenses. The company's technology combines vehicle diagnostic monitoring with an online GPS fleet tracking system. Networkfleet has more than 50 patents issued or pending surrounding remote diagnostics and has received numerous awards for its technology. Founded in 1999, Networkfleet is a wholly-owned subsidiary of Hughes Telematics, Inc. and is headquartered in San Diego, CA. For more information, please visit https://www.verizonconnect.com/.
About Hughes Telematics, Inc.
Hughes Telematics, Inc. ("HTI") (OTCBB: HUTC and HUTCW) is a leader in implementing the next generation of connected services. Centered on a core platform of safety and security, the company offers a portfolio of location-based services for consumers, manufacturers, fleets and dealers through two-way wireless connectivity. In addition to owning Networkfleet, HTI is also the majority owner of Lifecomm, located in Atlanta, Ga., which plans to offer mobile personal emergency response services through a wearable lightweight device with one-touch access to emergency assistance. Additional information about HTI can be found at http://www.hughestelematics.com/.