Gradall

No need for a lowboy to haul this excavator
An excavator capable of reaching highway speeds even greater than those permitted on many local highways? Indeed, says Gradall, announcing its new XL 4100 IV hydraulic excavator comes equipped with the new AutoDrive system, featuring a six-speed automatic Allison transmission. Powered by a 245-horsepower Mercedes Tier 4 Interim engine, the XL 4100 IV reaches highway speeds of 60 miles per hour. Push-button controls in the undercarriage truck cab allow the operator to select between Gradall, "John Deere" or SAE joystick patterns. Once at the jobsite, the AutoDrive's new transfer case allows the excavator to be remotely repositioned from the seat in the upperstructure cab, at a maximum 5 miles per hour. Introducing a new highly-visible yellow paint scheme, the XL 4100 IV telescoping excavator is available with either a 6×4 or 6×6 drive train. Maximum boom reach at grade is 30 feet 3 inches, maximum dig depth is 20 feet 3 inches and maximum loading height is 17 feet 2 inches. The boom crowd force is rated at 21,940 pounds and, unlike on conventional excavators, remains constant throughout the dig cycle.
Power Pavers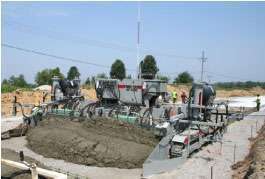 When a full-size slipform paver is too much
With its new compact slipform concrete paver model, Power Pavers is offering an economical solution to a market issue based on material supply. "With the ability to pave up to 7.5 meters (24 feet 7 inches) wide, the SF-1700 was developed to react to the contractor demand for two-pass paving in many highway applications," says Fred Hite, general manager of the Power Pavers subsidiary of Power Curbers Inc. "In many developing countries, concrete supply is an issue, so paving in two passes is more practical than one pass." By reducing the engine size and mainframe width of the company's leading SF-2700 model, Power Pavers was able to develop the SF-1700, which comes standard with a 160-horsepower Cummins engine, 12 Wyco vibrators, and a spread auger and tamper bar. Within a month of introduction, Power Pavers placed units in three countries, says Hite, and "we are getting great reports from our customers who have put them to work."
Maxwell Products
Meltable crack sealer
Nuvo Gap from Maxwell is a rubberized hot-pour patching material for wide cracks, potholes, rutting and depressed broken-up areas, and around manholes, gutters and drains. It creates a load-bearing, weather-resistant, durable bond. The sealant's PolySkin packaging is a fully-meltable container that absorbs completely into the product, so there's no need for opening or cutting.
Progressive Turf Equipment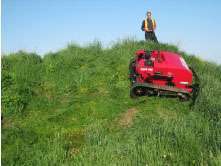 Mowing where no person should go
Slope-Pro from Progressive Turf Equipment is a remote-controlled, self-contained, tracked mower capable of either rough-cut or finished-cut mowing. It is designed to mow difficult and sloped areas without risk to equipment, terrain or operator, regardless of weather conditions. It features an ultra-low center of gravity for good stability and maneuverability, allowing the mower to cut on slopes as steep as 50 degrees while being remotely operated and realize an increase in productivity over manual cutting.
Vaisala
Free online road calculator for RWIS
The RoadDSS Value Calculator from Vaisala is a free online tool that evaluates potential cost and community savings to using various road weather information systems (RWIS) or road decision support systems. The calculator asks 12 questions about road maintenance operations. Once the user has input infrastructure and cost information, the calculator uses embedded algorithms to produce calculated savings based on referenced study findings. The report provides a breakdown of all direct and indirect cost savings, including safety aspects (such as potential accident reductions) and environmental aspects (such as carbon and other pollutant reductions). A user can adjust any of the information that has been input into the calculator to better tailor their end report.
New Pig
Dust- and grit-free absorbent mats
The Pig Universal Absorbent Mat Pack from New Pig absorbs and retains oil, coolants, water, gasoline, solvents and other liquids. The mat is dust- and grit-free, so it does not contaminate or damage hydraulics, parts or sensors. The mat pack contains three 15-by-20-inch pads. Each pack of three absorbs up to a half-gallon.
Navistar international
Air compressor for Class 4/5 trucks
The Terrastar Underhood kit (V900109) is a VR70 vehicle-mounted air compressor (VMAC) system, delivering 70 cfm and up to 175 psi. Developed for the Class 4/5 International Terrastar vocational truck, the system is said to fill the gap left when GM discontinued the 4500/5500 chassis. At press time, the kit was slated to be available for orders by the end of October.
Cimline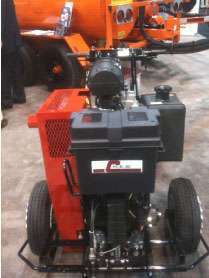 Better routing for cracksealing
The PCR-30 Router from Cimline's Pavement Maintenance Group has "better routing for better cracksealing," according to the company. The router, shown at the recent American Public Works Association (APWA) expo, has an electric start, 30-horsepower Kohler engine and a patent-pending, quick-stop, anti-kickback braking system. The drum is sturdy with heavy-duty roller bearings. The machine's height-adjustable, shock-mounted handles eliminate vibrations. A lower, wider stance provides stability, and start-up and operation are simple. For a walkaround video of the router go to New Road Products in the Better Roads Digital Edition.
Badger Equipment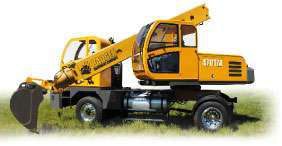 Self-propelled mounted excavator
The 470 TM from Badger Equipment isn't a new concept. The truck-mounted telescoping excavator concept has been around since the 1950s. But this mounted excavator is designed to be driven on the highway. At Better Roads press time, production was slated to start Oct. 1 for the 215-horsepower, Tier 3 machine (with Tier 4i production beginning after Jan. 1.). The mounted excavator is a self-propelled machine, with an automatic transmission, and comes in two- and four-wheel drive. "It can be driven from the upper cab or in a 'creep' mode from the back of the cab," Paul Marxen, Badger Equipment sales and marketing manager, told Better Roads at APWA. For a walkaround video go to New Road Products in the Better Roads Digital Edition.
Atlas Copco
Stands up to heavy-duty construction
Atlas Copco's XAS 750 JD7 Tier 4a rotary-screw portable compressor generates 750 cfm of free air delivery at normal working pressure and 100 psi at normal working pressure. Powered by a 200-horsepower John Deere six-cylinder diesel engine, it is Tier 4a compliant and designed for heavy-duty construction environments. The XAS 750 JD7 has an air receiver capacity of 16.7 gallons. With a fuel tank capacity of 78 gallons, the electronically-controlled, water-cooled engine has fuel consumption of 8.2 gallons per hour at 100-percent load. This offers a significant improvement over the previous model. In order to meet the new Tier 4a emission standards, the engine uses Exhaust Gas Recirculation (EGR) technology to reduce NOx (nitrogen oxide) emissions. A particulate filter is then used to remove the increased amount of particulate matter.
Pexco/Davidson Traffic Control Products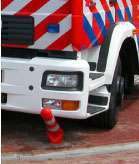 Traffic bollards that never rust
X-Last polyurethane composite bollards from Davidson Traffic Control Products, a division of Pexco, fully comply with the function of preventing vehicles from entering prohibited zones. The bollards' extreme flexibility makes them nearly impossible to break, and when hit and knocked down they return to their full, original upright form, according to the manufacturer. The bollards are solid color throughout and never need painting or refinishing, and because they are plastic, they do not rust.
Cargill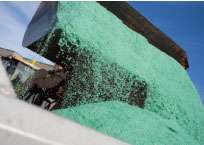 Deicing the white stuff the green way
Cargill has received the "Design for the Environment" (DfE) designation from the U.S. Environmental Protection Agency (EPA) for its ClearLane enhanced deicer, a green-colored deicing product. Traditional sodium chloride has been enhanced with a blend of salts and organic additives to provide increased performance while reducing the user's environmental impact. Lab data and customer usage experience show this composition can help lower the amount of salt used per application by 30 to 40 percent, according to Cargill, which means less salt is distributed into the environment when compared to regular road salt.
GVM Snow Equipment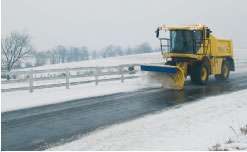 Four-wheel steering, three modes
GVM Snow Equipment's PowerPlatform multi-purpose machine maintains a road-legal 102-inch tire width and can reach road speeds up to 45 mph. The four-wheel-drive machine offers four-wheel steering with three steering modes: front steering, coordinated steering and crab steering. The unique frame design allows the PowerPlatform to turn with a 9-foot-shorter radius than a pickup truck, allowing the vehicle to turn around on a two-lane road intersection and maneuver through cul-de-sacs. The forward-mounted cab features floor-to-ceiling glass and carries 26,000 pounds of cargo at 45 mph, and 44,000 pounds at lower speeds. Powered by a 260-horsepower Cummins 6.7L Tier III engine mated with a ZF six-speed power shift transmission, the PowerPlatform possesses an efficient mechanical drive train. A 43-gpm hydraulic accessory flow is standard. For an interview by Better Roads editors and video walkaround of a control system from GVM, go to youtube.com/user/BetterRoadsmag#p/u.