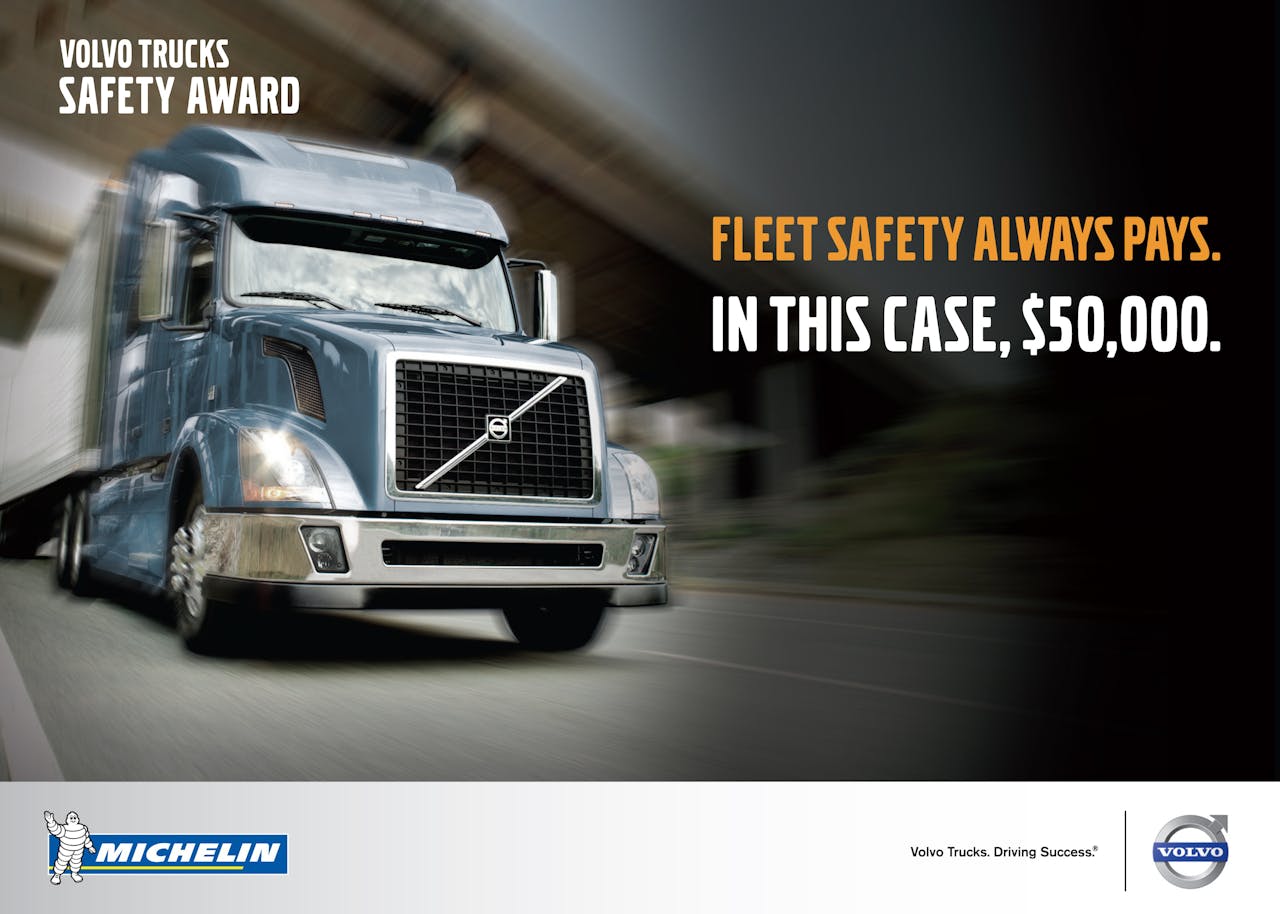 Safety-centric company cultures and outstanding performance records earned Roehl Transport, Inc. and Stagecoach Cartage and Distribution the 2011 Volvo Trucks Safety Award.  The awards were announced Oct. 17 at the American Trucking Associations Management Conference & Exhibition in Grapevine, Texas.
For three consecutive years, Volvo Trucks has sought out the safest fleets in North America, recognizing their hard work and dedication with the Volvo Trucks Safety Award.  Volvo was again joined this year by Michelin America Truck Tires as a supporting sponsor of the award.
"Safety has long been a core value at Volvo, and we're proud to share that focus with the very deserving winners of this year's award," Ron Huibers, Volvo Trucks senior vice president, sales and marketing, said in a written statement. "Roehl Transport and Stagecoach Cartage and Distribution demonstrate a deep commitment to safety throughout every layer of their organizations and their efforts truly make a difference."
"Michelin is pleased to join Volvo Trucks in celebrating the hard work and accomplishments of Roehl Transport and Stagecoach Cartage and Distribution," said Tim Fulton, Michelin vice president, strategic accounts. "Both companies have a safety culture that has a tremendously positive effect on their employees and countless others."
At the beginning of 2011, Volvo Trucks invited all U.S. and Canadian fleets with more than five Class 8 trucks to apply for the annual awards.  The awards are given in two categories, one for fleets with less than 20 million miles of annual operation and the other for those with more than 20 million miles.  Fleets were ranked by their accident frequency rates, using the U.S. Department of Transportation definition of a "recordable accident," as well as their accident prevention programs.
Roehl Transport of Marshfield, Wisconsin won the Volvo Trucks Safety Award in the over 20  million mile category.  A family-owned diversified truckload carrier for nearly 50 years, Roehl operates approximately 1,800 trucks, and in 2010 had an accident frequency rate of just .295 during their more than 172,600,000 miles of operation.
Roehl distinguishes between "priorities" and "values."  Priorities can change depending on circumstances.  Values are enduring and guide daily behaviors. Safety is Roehl's  "cornerstone" value.
All employees, even non-drivers, are required to go through The Roehl Way of Driving program. The interactive classes stress the need to not only avoid accidents, but proactively protect all motorists sharing the highways with them.
"For us, safety is a deeply held belief beyond compromise," Rick Roehl, president of Roehl Transport, said.  "We've always viewed Volvo as a great partner.  Their core values line up very well with ours.  We welcomed their scrutiny as we pursued the Volvo Trucks Safety Award, and we're extremely proud to have earned this recognition."
John Spiros, Roehl Transport Vice President of Safety and Claims Management added: "At Roehl, safety is everyone's job. Winning the Volvo Safety Award shines a light on a commitment that runs throughout our entire organization."
Stagecoach Cartage and Distribution of El Paso, Texas,  won the Volvo Trucks Safety Award in the under 20 million mile category.  Stagecoach provides a full range of transportation and warehousing services, includeing over-the-road, regional and local transportation, and intermodal drayage. Their fleet of 162 trucks logged more than 16,300,000 miles in 2010 and posted an impressive .122 accident frequency rate.
Stagecoach equips their trucks with a range of safety technologies. Their advanced training simulator gives  drivers the opportunity to hone their skills – to practice difficult maneuvers and evaluate their responses in a safe environment.
"We've integrated safety into everything we do," Stagecoach President Scott McLaughlin said in a press release. "We don't just talk or write about safety.  We back up our commitment with investment.  Volvo gives us a single source for specing all of the latest safety technologies, from the factory, and have the truck delivered with everything integrated and ready to roll."
Manny Roman, Stagecoach safety manager, says that safety drives the culture at Stagecoach.  "Everyone here is very excited about winning the Volvo Trucks Safety Award," Roman said in a written statement. "It gives a lift to everything we're doing when it comes to safety, and helps spread the word that safety is what we're all about."