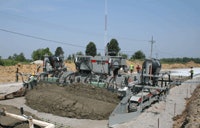 Power Pavers is pleased to announce the introduction of our new compact slip-form paver, the Power Paver SF-1700. "With the ability to pave up to 7.5m (21') wide, the SF-1700 was developed to react to the contractor demand for two-pass paving in many highway applications. "The response to the SF-1700 has been excellent and we are getting great reports from our customers who have put them to work," stated Fred Hite, general manager of Power Pavers Inc. "In fact, we placed machines in 3 countries within a month of the machine's introduction."
The frame of the SF-1700 is based on Power Paver's current leading machine, the SF-2700. By reducing the engine size and Main Frame width Power Pavers was able to make the SF-1700 a more compact, economical alternative to contractors desiring to pave highways in two passes. "In many developing countries, concrete supply is an issue, so paving in two passes is more practical than one pass" explained Hite. Standard equipment on the SF-1700 includes a 160 horsepower Cummins engine, spread auger and tamper bar, and 12 Wyco vibrators.
Power Pavers Inc. a subsidiary of Power Curbers Inc. manufactures a full line of slip-form concrete equipment for use in residential, highway and airport paving. Based in Cedar Falls IA, USA, in addition to slip-form paver, Power Pavers offers form pavers, placer/spreaders, and texture/cure machines to paving contractors. Visit www.powerpavers.com for more information.