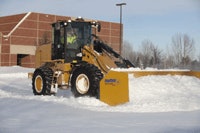 ROCHESTER, N.Y. — Pro-Tech offers a complete line of rubber-edged Sno Pusher containment plows for snow removal. These models perform best in wet, heavy snow, which allows the rubber edge to squeegee the surface clean. Plus, with heavily supported frames and no moving parts, Pro-Tech's Sno Pushers are engineered with durability in mind.
Pro-Tech's premium rubber edges feature an optimum balance of hardness and flexibility characteristics, and they are manufactured using a continuous extrusion process. This means the rubber resists tearing, and it upholds a tensile strength greater than 2,000 psi, which is more than twice the strength of molded rubber alternatives. The edges are also installed at the ideal angle of attack to squeegee surfaces in the most effective manner.
Furthermore, the forgiveness of Pro-Tech's rubber edge design accommodates inexperienced containment plow operators. Even when the unit is not kept level with the surface, it will produce a clean pass, and the risk of damaging surfaces is much lower when compared with steel edges – especially on concrete and gravel.
A total of 45 rubber-edged Sno Pushers are available with options for attaching to any make of loader, backhoe, skid steer and compact tractor. The 10- to 20-foot loader models are capable of pushing 12 to 26 cubic yards of snow in one pass, respectively. The 10- to 14-foot backhoe models can push 9 to 13 yards, and the 6- to 12-foot skid steer models can push 5 to 11 cubic yards. Pro-Tech also manufactures a Super Duty line for attaching to large excavating loaders, Fold-Out models for transporting within traffic lanes, and Pull-Back models for removing snow up against loading docks or doors.
For maximum strength the Sno Pushers are fully welded, and they use horizontal and vertical channeling made of thick steel. Furthermore, triangular gussets provide optimal support between the moldboard and side plates. Because of their simple, yet durable designs, Pro-Tech's rubber-edged Sno Pushers require little maintenance and are not susceptible to malfunction, so operators experience practically no downtime on the job.
Options include a variety of wear shoes and a level gauge. Binder kits are available for backhoe and loader models, and skid steer products can be equipped with a quick-attach mounting system. Like all other Pro-Tech Sno Pushers, the rubber-edged models come with a 10-year limited warranty, a competitive price and an industry-leading free freight program.
Besides the rubber-edged models, Pro-Tech also offers a full line of steel trip-edge containment plows and the Switchblade series, which features both rubber and steel trip edges. All models are available for any make of loader, backhoe or skid steer.