By Tina Grady Barbaccia
Compact wheel loaders with versatility
The latest-generation Volvo L20F and L25F compact wheel loaders from Volvo Construction Equipment deliver the key requirements of the 50- to 60-horsepower wheel loader class, namely versatility, compact dimensions, ease of operation and flexibility for use with a wide range of attachments, according to the manufacturer. The machine's compact size helps give all-around visibility and the ability to work in narrow or confined work sites. The frame concept features an articulating/oscillating joint in the center of the machine between the front and rear frame. Operator-selectable differential locks on the front and rear axles come as standard, and parallel linkage on both models offers excellent visibility to the attachment, according to the manufacturer. An optional hand control inch valve permits operators to precisely adapt travel speed to fit the application.
L20F L25F
Bucket capacity 0.85 – 1.25 cu. yd. 1.0 – 1.6 cu. yd.
(0.65 – 0.95 cu. m.) (0.85 – 1.2 cu. m.)
Operating weight 9,945 lb. (4,510 kg) 10,650 lb. (4,830 kg)
Net engine power 54 hp (40.2 kW) 60 hp (44.7 kW)
Dump height 8 ft. 3 in. (2,510 mm) 8 ft. 2 in. (2,490 mm)
Breakout force 6,970 lb.-ft. (31 kN) 8,320 lb.-ft. (37 kN)
Lifting capacity 6,175 lb.-ft. (27 kN) 7,495 lb.-ft. (33 kN)
Slurry seal applicator tank for REAS
Bergkamp's A3000 Premixed Slurry Seal Applicator Tank allows contractors to apply Rubberized Emulsion Aggregate Slurry (REAS) over highways, roads, parking lots and airport runways. REAS is designed for asphalt roads that are seven years old or less and have no major structural damage. A full-sweep agitator hydraulically maintains the proper material mixing speed regardless of the truck engine speed during transportation to the jobsite. Crumb rubber from the 78-percent recycled tires in the slurry mix provides higher skid resistance. Other features on the A3000 include a 3,000-gallon material tank, operator platform, simple material discharge system and a 4-inch cam lock fill port.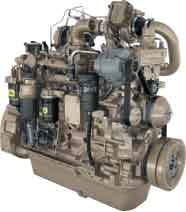 Engine now EPA-certified, EU-compliant
The PowerTech PVX 6.8L, 174-horsepower engine and PowerTech PSX 6.8L engine from John Deere Power Systems have been certified by the Environmental Protection Agency and European Union as compliant with the Interim Tier 4 and Stage III B regulations. The engines join the certified 9.0L engine models. Interim Tier 4/Stage III B emissions regulations began Jan. 1, 2011, for 174-horsepower and above engines, and require a 90-percent reduction in diesel particulate matter and a 50-percent reduction in nitrogen oxide from previous Tier 3/Stage III A requirements.
Nitrogen gas-assisted operation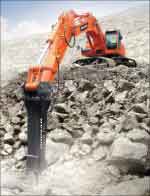 The DXB170H hydraulic breaker by Doosan features nitrogen gas-assisted operation for improved efficiency in demanding demolition and rock-breaking applications. The 3,572-pound DXB170H delivers up to 600 blows per minute and is designed for use with excavators in the popular 18- to 28-metric-ton weight range. Rated in the 5,000-foot-pound impact energy class, the DXB170H requires a hydraulic flow rate of between 26.5 and 39.5 gallons per minute. The DXB170H breaker comes standard with a bracket cap, auxiliary hydraulic hoses, automatic greaser, two moil points, toolbox, nitrogen gas inflating kit and checking device.
Attachments increases loader utility
Case Construction Equipment's family of hydraulic angle broom attachments have been designed to increase the utility of its wheel loaders. They range in width from 96 to 120 inches, enabling the wheel loaders to sweep streets and parking lots, clean up jobsites and remove snow from jobsites. Angle broom models are available for Case 521D and E, 621D and E, 721D and E, and 821E wheel loaders. The brooms feature durable poly-wire brushes, broom heads that adjust 30 degrees left or right and an integrated nozzle for applications requiring water for dust control. The Case angle brooms attach to the Case-New Holland (CNH) Quick Coupler (JRB-compatible) for wheel loaders. Quick-change hydraulic fittings enable the operator to attach and detach the broom without disrupting hydraulic lines. Dual hydraulic motors power the broom attachment, driven by the loader's optional third-function auxiliary hydraulic control. A rugged steel frame houses the broom. Broom models are available with either solid or pneumatic tires.
Pallet forks for skid steers
Case's pallet forks are specially designed for use with the company's skid steers and compact track loaders. The pallet fork assemblies are available with either 48- or 42-inch tines in a choice of heavy duty, rated to 5,500 pounds, or standard, rated to 4,000 pounds. The rugged frame's mounting angle helps to assure proper forward tilt for loading and excellent rollback for transporting loads. The design offers ample room between the frame and the cab, providing easy access to and from the cab.
'New generation' loaders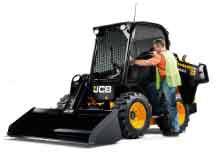 JCB has introduced seven compact loaders — four wheeled and three tracked — in a range that will eventually grow to 18 models. All seven machines are vertical lift, which allows for increased capacity and more reach at maximum lift height. The models now available — the 260, 280, 300 and 330 wheeled skid steers and 260T, 300T, 320T compact track loaders — are large-platform machines with rated operating capacities of 2,600 pounds and above. With the introduction of the new-generation machines, JCB will be able to offer a complete range of wheeled and tracked machines, both radial and vertical lift, ranging from 1,300 to 3,500 pounds.
Corrosion-resistant ice management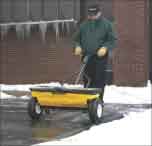 SnowEx, a division of TrynEx International, introduces its SD-95 drop spreader for ice management in confined areas. The spreader delivers a consistent flow of material directly to the ground, which is said to reduce waste and prevent the material from flinging into unwanted locations. The SD-95 includes a corrosion-resistant polyethylene hopper, which has a 160-pound capacity. Designed to handle bagged rock salt and pelletized material, the unit spreads in a 28-inch-wide path. The spreader also features 13-inch-diameter pneumatic tires and an adjustment lever on the handle for changing the material flow quickly and accurately.