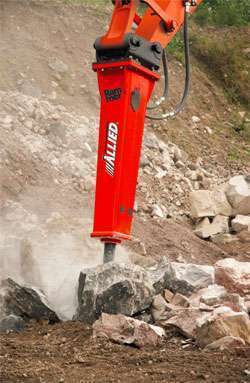 Cleveland, Ohio—Allied Construction Products, LLC has announced the addition of the Allied/Rammer Model 1533 hydraulic impact hammer to their full-product line.
As attachment use increases, Allied continues to lead the industry with product improvements. Allied's newest addition, the Rammer Model 1533 Mid-Range hammer weighs 2,770 pounds and is ideal for use on 35,300 to 57,300,000 pound excavators.
Allied's Sandvik Model BR2155 hammer reflects simpler operation, easier maintenance, increased reliability and extended longevity. Designed for heavy quarrying and construction applications, the G 88 features adjustable impact energy to match working conditions for optimal performance. It is available exclusively as a silenced CITY model for quiet operation.
The G 88 G-Series offers many competitive advantages:
Fixed Blow Energy guarantees that all blows are at full power
Front-end, including simpler tool retainers and "interference-fit" bushings, is protected by housing which eliminates wear of the most costly components of the hammer assembly
Pro Control allows the operator to control impact energy of the hammer which delivers the appropriate impact power for increased production
The G 88 features Idle Selector allowing an operator to change the settings to accommodate specific breaking conditions
CITY version (standard) contains the noise created by the hammer inside of the box and allows contractors to work where noise is a problem
Improved heavy-duty lower boot insures that the tool holder does not wear out when breaking abrasive material and is easier to replace
New lower tool bushing is a longer design to add additional support to the tool to resist breakage
Newly designed tie bolts (thinner shaft diameter allowing increased torque) now have extended longevity
The hammer body can be rotated 180° in the housing to easily match the carrier with the hammer for either right hand or left hand pressure supply
One or more of over 2,500 customized hydraulic kits from Allied provide components for mounting the Model BR2155 on excavators. The Model BR2155 requires 32 to 48 gpm at 2,050 to 2,300 psi and it breaks at a rate of 490 to 780 blows per minute. Demolition of concrete structures, building foundations, trench rock and oversize rock are many of the applications for the Model BR2155 Mid-Range hydraulic hammer.
Allied Construction Products, LLC is a leader in innovative construction product technology. Through more than 200 U.S. and Canadian Distributors, Allied offers a complete line of backhoe/excavator, skid-steer and mini-excavator mounted attachments, stationary breaking and material handling systems and trenchless underground piercing tools.