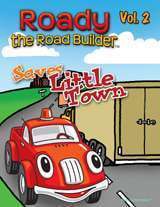 To assist your community engagement efforts, Better Roads has created coloring books and workbooks to be used as learning tools to teach children about roadbuilding.
Your staff can use these books as handouts during school visits, as well as company functions such as open house events, company picnics and parties, and community events. The coloring books include a blank area where you can personalized them using your company name and logo.
For a chance to win, go to the Better Roads Facebook Page, click on the "Promotions" button at the top of the page and answer a few quick questions for your chance to win 50 coloring books.
The contest ends Sept. 16, 2012.