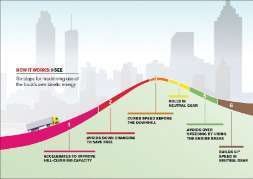 EDITORS' PICK
Volvo
Harnessing its own energy
Volvo's I-See system harnesses the truck's own kinetic energy to "push" the vehicle up hills, which cuts fuel consumption up to 5 percent, says the company. On downhill gradients the same energy is used for acceleration. I-See is linked to the transmission's tilt sensor and obtains information about the topography digitally. The fact that the system is not dependent on maps makes it more dependable since it always obtains the very latest information. Visit www.betterroads.com/info.
EDITORS' PICK
Aquaphalt
Environment-friendly, quick pothole repair
The Aquaphalt permanent pothole repair for asphalt and concrete proprietary binder reacts with water within 15 minutes and roadway repairs can be opened to normal traffic when work is complete. With the help of road traffic assisting with final compaction, the repair is completely set up and permanent within 24 hours. The repair material does not contain toxic solvents or volatile organic compounds (VOCs) – it is actually a food-grade product — and typically outlasts its surrounding material, says the company. Visit www.betterroads.com/info.
EDITORS' PICK
Freightliner
A winter truck
Freightliner's 114 Severe Duty (SD) platform is equipped with a 14.5-foot elliptical dump body, 10-foot plow and belly scraper. With the set-forward axle configuration and ground clearance package, the manufacturer now has full-product coverage in the government snowplow market. The lightweight aluminum cab is e-coated for additional protection against harsh winter elements and features large door openings for easy entry and egress. The hood incorporate a radiator-mounted stationary grille that allows the hood to be open when equipped with a variety of different front frame extension-mounted snowplow attachments. The contoured back of the hood design nearly eliminates the buildup of snow on the cowl. Visit www.betterroads.com/info.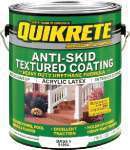 Valspar
Increased traction, protection
Valspar's Quikrete Anti-Skid Textured Coating is a high-build coating fortified with heavy-duty resin technology that provides increased traction and more protection to both interior and exterior surfaces. It works well on interior or exterior concrete surfaces such as walkways, steps, ramps and other areas that need improved traction but is not recommended for parking areas.
Visit www.betterroads.com/info.
Esri
A new frontier in geographic information systems
A component of ArcGIS Online, Esri Maps for Office allows the quick (i.e. in seconds) creation of a map of spreadsheet data directly inside Excel. Add the map to a PowerPoint presentation, include it in a web page, or embed it in web and mobile apps. Static tables and charts can be turned into an interactive map. For a 30-day free trial, go to https://bit.ly/Nioaib. Visit www.betterroads.com/info.

Advanced Drainage Systems
Trap stormwater debris
The Nyloplast EnviroHood Structure from Advanced Drainage Systems (ADS) increases the effectiveness of a stormwater drainage catch basin or manhole by trapping debris, oil, sediment and other contaminants and can be readily attached to the inside of a manhole or catch basin. Made from high-density polyethylene (HDPE), and using the same ADS technology used to make ADS's N-12 corrugated HDPE pipe, the EnviroHood structure has a high strength-to-weight ratio due to its corrugated ribs. Visit www.betterroads.com/info.
Altus
Powerful GIS data acquisition
The ProCyon from Altus Positioning Systems integrates the Psion WORKABOUT PRO handheld computer with Altus' APS-3 RTK GNSS receiver for a powerful GIS data-acquisition platform. The ProCyon system delivers 1-centimeter RTK accuracy using an external antenna, integrated camera and quad-band GSM modem. Hardware expansion slots make the addition of new modules fast and easy, as well as a range of available add-ons, including fingerprint scanners and the largest selection of RFID readers on any handheld device. The ProCyon Windows Mobile operating system accommodates ESRI ArcPad and ArcGIS applications. Both programs utilize NMEA messages that are standard outputs from the integrated GNSS receiver in the ProCyon. Visit www.betterroads.com/info.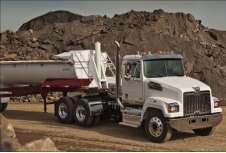 Western Star
Spec options
Western Star's 4700 tractor is available in a set-forward and set-back day cab configuration and incorporates a high-visibility hood, a wide variety of fifth wheel and wheelbase selections with power ratings from 260 to 470 horsepower. Combined with several transmission offerings including the Allison automatic, Eaton manual and Eaton UltraShift PLUS, the tractor can be spec'd for a wide variety of work. New options for the 4700 include Hendrickson and Watson Chalin lift axles, new roof fairings and side extenders, and Chalmers Suspension. Visit www.betterroads.com/info.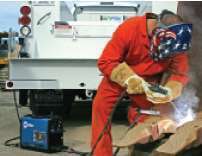 MILLER ELECTRIC
Keeping safety workers safe
EnPak's 27-HP Kubota diesel engine from Miller Electric Mfg.'s EnPak Mechanic Series eliminates the need for a PTO and integrates into its electrical and fuel systems, allowing mechanics to run all their tools with the truck turned off. EnPak's variable speed rotary screw air compressor, Miller's Air Pak 40, offers a rated 40 cfm at 100 psi with a 175 psi maximum that allows mechanics to use air tools without having to stop working to wait for pressure to build. Its Eaton variable displacement piston hydraulic pump powers a rated 3,000 psi at 8.5 gpm (up to 20 gpm maximum), and 6,000 watts of generator power at 100-percent duty cycle plus an additional 2,400 watts of pure sine wave EnVerter power at idle is available to run electrical tools. Visit www.betterroads.com/info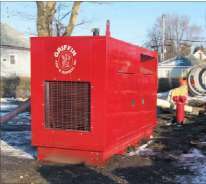 Griffin Dewatering
Pump keeps noise to a minimum
The Silent Pump Unit from Griffin Dewatering is a portable diesel-powered pump able to operate quietly for environments where low noise levels must be maintained. It produces only 70 decibels at 23 feet, and is well-suited for sewer bypass operations, wellpoint dewatering and open sumping. The pump has easy-access lockable doors for regular maintenance and increased security. Silent Pump units are available in several models, depending on the type of job. Visit www.betterroads.com/info
EZ Street Canada
Modified cold asphalt
EZ Street Canada's high-performance, polymer-modified EZ Street cold asphalt can permanently repair potholes, street edges and utility cuts as well as provide overlays to asphalt or concrete. According to the manufacturer, the cold asphalt is particularly successful in wet climates that experience freeze-thaw cycles. Visit www.betterroads.com/info.
Peterbilt
Brakes always automatically optimally adjusted
Bendix air disc front brakes are now available on Peterbilt Motors Models 382 and 348. The brakes offer reduced stopping distance; straight, stable stops due to minimized brake force variation between brakes, internal automatic adjustment that allows the brakes to always be in a state of optimum adjustment; optimized friction pairing that results in minimal noise and maximized pad and rotor life; and a compact design that minimizes weight and maintenance. Available in GVW ratings from 31,000 to 66,000 pounds, the Model 348 is designed for low horsepower and torque vocational environments such as dumps, mixers and cranes, where a more compact overall vehicle envelope is required. Visit www.betterroads.com/info.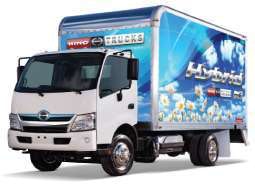 Hino Trucks
Diesel, diesel-electric hybrid powertrain trucks out this fall
Hino Trucks new Class 5 195 and 195h COE trucks will be arriving at Hino dealerships across the country this fall. Available with a diesel (195) or diesel-electric hybrid (195 horsepower) powertrain, the 19,500 GVW trucks feature 210 horsepower and 440 foot-pounds of torque from Hino's 5-liter J05E Series engine. In addition to a diesel-electric hybrid option, the 195 model meets EPA 2010 emission regulations by using an optimized SCR system — with no credits required. Inside, the new cab uses its increased width to provide room for drivers up to 6 feet 6 inches tall, seating for three and a versatile mobile workspace with a variety of organizational storage options. Visit www.betterroads.com/info.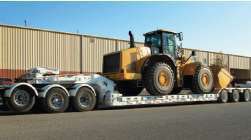 Specialized Trailers
Ideal for oversized loads
XL 110 HDG customized trailer from XL Specialized Trailers, is ideal for hauling oversized loads. The main deck is equipped with steel pullouts on 18-inch centers capable of handling up to 60,000 pounds. The low-profile, scraper-style upper deck and a 36-inch flip neck design, the 54-foot XL 110 HDG customized trailer accommodates multiple truck sizes and handle loads up to 110,000 pounds distributed. The upper deck comes standard with wet kit, removable king pin, hydraulics through its flip neck, four variable ride heights and storage for chains and loading tubes. XL 110 HDG customized trailer can be equipped with a pivot-style or a flip-style booster. Visit www.betterroads.com/info.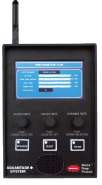 MUNCIE
Simultaneous equipment operation
The Advantage + System from Muncie Power Products has a flow-sharing design for simultaneous equipment operation even at low pump flows. Its touch-screen display is high contrast, high resolution and multi-color. The system is useable with gear or piston pumps, has built-in pre-wet and anti-icing controls, built-in GPS, WiFi and interface and displays for road-air temperature sensors. It also features menu-adjusted pressure controls and digital pressure displays as well as operational data-logging and diagnostic data-logging. There are no wire harnesses between the cab controls and the valves.
Visit www.betterroads.com/info.
Peterbilt Namco
Multiple options for split shaft PTO
Peterbilt Motors' vocational product line now is now available with a wide range of split shaft power take-off (PTO) options. The new split shaft PTO options are available for immediate production needs. Peterbilt has partnered with Namco to fully integrate its product designs into the production process. Visit www.betterroads.com/info.
Yokohama
There's a tire app for it
Yokohama is offering an iPad app, the Yokohama Commercial Tire Navigator, which is free and offered solely through iTunes. It features product information in an interactive format, 360-degree tire photography, Yokohama's proprietary Fuel Savings Calculator and a dealer locator. The photos allow users to view Yokohama tires to research which are most suitable for various applications and road conditions. The calculator lets users compare Yokohama's tires against competitor tires. Visit www.betterroads.com/info.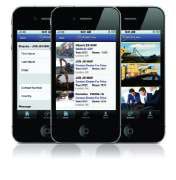 Moffat
A browsing-by-category app
Moffat Consulting & Technology developed an interactive iPhone /iPad application for European Plant and Machinery Sales (EPM) that enables users to browse equipment by category (for example, excavators or wheel loaders) to produce a subset listing of machinery that is displayed in a digital "stock book" outlining available products classified by model, year, hours, location, with the addition of the price and include a recent photograph. A "services" section was also built into the app, which the user can use to message the workshop, the export office at EPM, or make a serious enquiry about a particular piece of machinery which then may result in a sale. The app is now available as a free download from the iTunes Store. Visit www.betterroads.com/info
Legacy
Hybrid fabric-steel structure
The new fabric manufacturing plant Legacy Building Solutions opened in South Haven, Minn., is a hybrid fabric-steel structure that incorporates steel sheeting on the exterior sides. Offering more clearspan space than Legacy's previous plant, the new building enables workers to operate more efficiently, particularly when manufacturing larger polyethylene or PVC fabric panels. Featuring a 40-foot skylight and R-30 insulation for increased energy efficiency, the plant is fully climate controlled to eliminate the temperature and humidity fluctuations that can affect the quality of fabric welds. Legacy has also added state-of-the-art equipment — including a laser-guided welding system — to aid in producing fabric panels for larger structures. This is especially advantageous when manufacturing panels for fabric buildings with widths of more than 200 feet. Visit www.betterroads.com/info.
Microsoft
Surface tablet, Windows 8 coming this fall
Microsoft's Surface tablet and Windows 8 are both expected to launch this fall according to a filing with the U.S. Security and Exchange Commission. The Surface RT, is the version that will run Windows RT – a scaled-back version of Windows 8 that uses the touch-friendly elements of the OS instead of a classic desktop interface. This version of the tablet will run on a mobile ARM processor instead of an Intel Core processor. Visit www.betterroads.com/info.
Iowa DOT
511 mobile app for iPhone
The Iowa Department of Transportation's real-time 511 traveler information mobile app is now available for iPhone users through the iTunes Store. An Android version has previously been released. The app provides statewide, real-time traffic information. It features include a zoomable, scrollable map-based display; current traffic speeds and closed-circuit television traffic camera images from six metro areas electronic roadway sign messages; and traffic events. The Iowa 511 app provides information for interstates, U.S. routes and state highways in Iowa but does not include information for county roads or city streets. Visit www.betterroads.com/info.

Superior
Links to portable equipment
Superior Industries' new Geotrek Conveyor is a track-mounted radial stacker that can be directly linked with portable crushing and screening equipment in applications that require material stockpiling. Equipped with independent hydraulic cylinders at both the head and tail ends of the conveyor, the unit can also be used as a mobile transfer or link conveyor. The conveyor features a powerfold design and is equipped with proportional track drive control, which allows smoother, steadier travel when the tracks are engaged. The 42-inch-wide by 8-foot-long conveyors are self-contained, each equipped with a 77-horsepower diesel engine. Visit www.betterroads.com/info.
Mack
Enhancements provide more comfort and productivity
Mack Trucks' Pinnacle features an optional center storage console, located between the seats in day cab models, providing nearly one cubic foot of convenient space for large-item storage. The console includes interior lighting and a 12-volt power supply. Optional ambient red floor lighting, subtle or indirect, can be used at night when driving or when stationary. Other enhancements include a standard "dead pedal" for the driver's left foot to maximize comfort while driving and to help the driver maintain an ergonomically correct seating position; a standard dash-mounted ergonomically designed single DIN MACK mDRIVE automated manual transmission shifter keypad and improved functionality for Mack PowerLeash+ engine brake controls. Visit www.betterroads.com/info.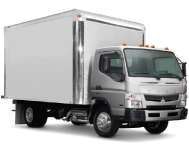 Mitsubishi Fuso
Dual batteries, PTO wiring harness standard
Mitsubishi Fuso Truck of America's (MFTA) 2013 model-year FUSO Canter medium-duty cabover trucks will come standard with dual batteries, and will also include a factory-installed PTO wiring harness designed to receive an optional matched control switch and to make connection to optional PTOs easy. A 33-gallon side-mounted fuel tank will be available as a factory-installed option, and mirrors will have new, wider mounting arms that facilitate the installation of bodies with outside widths up to 102 inches on all FE models, including the FE160 Crew Cab. Visit www.betterroads.com/info.
Alstom
Ultra-fine mill
Alstom Power says its new Raymond Ultra Fine Mill is capable of outputting materials five times finer than other mill systems, and consumes up to 50 percent less energy than competing mill technologies. The system is an air-swept vertical ring mill in which a shaft rotates convex rolls inside concave grinding rings to reduce materials to high degrees of fineness in multi-stage process. Air flowing within the mill carries ground material through the classification process to achieve the desired fineness. The system offers flexibility to deliver products as fine as 50 percent passing 2 microns, or as coarse as 50 percent passing 10 microns. Visit www.betterroads.com/info.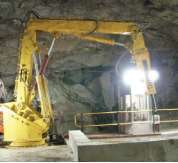 Atlas Copco
Extreme-duty boom
Altas Copco Construction Mining Technique says its new extreme-duty (XD) pedestal boom systems are the only ones on the market specifically designed for secondary rock breaking in mines and open pits. The boom systems are designed for use at grizzly stations in underground mines and at gyratory crushers in open pits. Key components — the pedestal boom's flexi-base, slew mechanism, cylinders, and pin-locking system — are rugged enough to withstand the rigors of a harsh rock-breaking environment. The series includes five systems that offer a horizontal reach from 8.8 to 30 feet and have the ability to handle breakers weighing between 440 and 4,850 pounds. Visit www.betterroads.com/info.