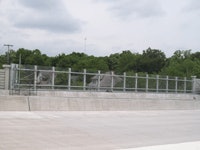 Federal Highway Administration (FHWA) Approved Noise Barrier System For Bridges and Highway Overpasses
Evonik Cyro LLC announces the application of the PARAGLAS SOUNDSTOP TL4 System as part of highway projects in Florida, California, British Columbia, Ohio, Tennessee, and New Jersey. The lightweight, crash safe noise barrier system has been successfully tested under NCHRP 350 Level 4 conditions which include two crash tests involving an 8,000-kg single unit truck impacting at 80 km/hr and 15 degrees and a 200 KG pickup truck impacting at 100 km/hr.
Evonik Cyro's TL4 system incorporates transparent PARAGLAS SOUNDSTOP GS CC noise barrier sheet, which features its unique fragment retention feature, meets the international EN1794 standard regarding noise barriers. If subjected to an impact at high enough energy where breakage occurs, large fragments are retained thus preventing any potential secondary damage from falling debris. In many countries around the world GS CC is the only product approved for use on bridges.
The SOUNDSTOP TL4 System weighs as little as 25 pounds per square foot compared to other TL4 compliant noise barrier walls, typically made from reinforced concrete, weighing 1200 pounds per linear foot.  "This light weight could dramatically reduce the cost of bridge construction by eliminating one or more load bearing girders needed to support the heavier concrete wall," according to Charles Boyd, structures engineer with the Florida Department of Transportation.
"The  SOUNDSTOP TL4 System offers the impact resistance and safety necessary for elevated roadways, while providing unobstructed views to maintain natural aesthetics and light transmission," comments Nate Binette, market manager, Noise Protection Products, Evonik Cyro LLC.
Dr. Ron Faller of the Midwest Roadside Safety Facility provided engineering services for the development and design of the TL 4 System. The Midwest Roadside Safety Facility is the FHWA certified laboratory that conducted the crash test.  "In addition to the prevention of falling debris, this system acts to prevent vehicle snagging and occupant compartment intrusions which are also requirements of the TL-4 impact standards for attachments to existing roadside safety features.  We actually observed that the TL4 System contributed to vehicle stability during the test" stated Faller.
Used throughout Europe for more than 30 years, SOUNDSTOP sheet was introduced in North America in 2002 and has since garnered significant success with scores of installations in more than 18 states.  SOUNDSTOP GS CC sheet maintains visibility for landscapes while still providing noise reduction for the surrounding area.
The TL4 system, as well as other affordable lightweight systems offered by Evonik Cyro, provides an attractive solution for bridges requiring noise abatement while also minimizing dead load.
PARAGLAS SOUNDSTOP panels offer very low life cycle costs. Due in part to the hard, smooth surface the panels have little to no maintenance costs.  he panels remain clean through exposure to rain and facilitate graffiti removal using a simple spray-on solution and pressure wash. The sheet is extremely resistant to the elements, with excellent UV light stability and light transmission, and will not yellow over time like polycarbonate and other materials.
Panels are available in transparent or translucent clear, and various color shades including Midnight Blue, Steel Blue, Sky Blue, Forest Green, Sea Green, Spring Green, and Smoky Brown.