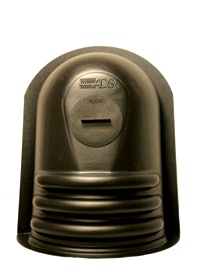 HILLIARD, Ohio – Advanced Drainage Systems, Inc. (ADS) has announced a new product that increases the effectiveness of a storm water drainage catch basin or manhole by trapping debris, oil, sediment and other contaminants. Called the Nyloplast® EnviroHood Structure, it can be readily attached to the inside of a manhole or catch basin.
"The need for communities to meet EPA requirements is at a critical stage," stated Jim Clemans, vice president of Allied Products, ADS. "And the need for cleaner water is paramount for our environment. The ADS engineering staff continually strives to find and design new products that enhance the ability of a storm water system to control pollution, and our new EnviroHood unit fills that need."
Made from high-density polyethylene (HDPE), and using the same ADS technology used to make its N-12® corrugated HDPE pipe, the EnviroHood structure has a high strength-to-weight ratio due to its corrugated ribs. This ensures a long life and provides the ability to withstand the dynamic forces of a rainfall event. "We've designed a product with superior strength, but we're finding it can be installed at a lower cost and is less intrusive than other products," Clemans offered.
The Nyloplast EnviroHood is available in sizes to cover outlets from 12 to 30 inches and in models to fit round and flat concrete, and Nyloplast structures.
For additional information about the Nyloplast EnviroHood Structure, click on www.ads-pipe.com or contact any local ADS office or authorized distributor.