Trimble/Gatewing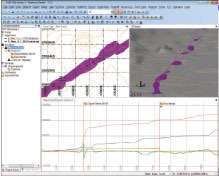 Drone Mapping
Trimble has acquired privately held Gatewing of Gent, Belgium, a provider of lightweight unmanned aerial vehicles (UAV) for photogrammetry and rapid terrain mapping applications. UAVs provide users the ability to create orthophotos and Digital Surface Models (DSM) from aerial imagery for mid-sized areas previously only accessible at higher costs and with longer planning cycles. UAVs are used in a variety of applications including preliminary surveys for corridors and rights-of-way, volumetric surveys, high-level topographic surveys, and landfill inspection. Gatewing's solutions include the X100 UAV and Stretchout desktop software for digital image processing and analysis. The X100 is an ultralight, a 4.4-pound-class UAV that allows fast and simple image acquisition. It consists of an airframe, an integrated GPS, inertial system and a radio; a 10-megapixel camera; and battery. Using the Trimble Yuma tablet computer, a predefined area is planned and the flight of the UAV is fully automated from launch to landing.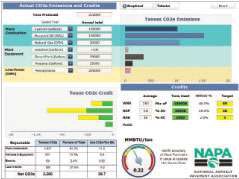 National Asphalt Pavement Association (NAPA)
Greenhouse gas calculator
The National Asphalt Pavement Association (NAPA) has expanded its online Greenhouse Gas Calculator that can be accessed at asphaltpavement.org/ghgc. The calculator compares emissions associated with various fuels used to dry aggregate, plus fuels used by facility equipment, including vehicles CO2e attributed to electrical use. The calculator includes emission offset credits for fuels and activities that reduce the amount of CO2e released or that sequester CO2. Credits are calculated for plant-based biofuels, recycled fuel oil, and recycled raw materials, such as reclaimed asphalt pavement and recycled asphalt shingles. Credits are also calculated for reducing mix temperatures using warm-mix asphalt technologies.
GOMACO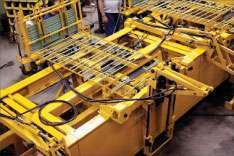 Bar insertion system
GOMACO's rear-loading, front-inserting 5400 Series bar inserter is now available on its 3100 and 5000 Series molds with a self-supported transition adjustor. Previously, the 5400 bar inserter was only available with the 5400 Series mold. The inserter mounts to a T-bar at the front of the 3100 or 5000 Series mold, while the bar loading chain system is supported by a stand in the rear of the mold. It can be retrofitted to any existing 3100 or 5000 Series mold in the field with a self-supported transition adjustor. On-the-go crown changes can be made while still maintaining constant bar depth during insertion. Individual guides on the right and left side of the bar inserter keep each bar parallel to the top of the slab while smart cylinders control the depth of each bar's placement. The GOMACO exclusive G+ control system is used to control the bar insertion process and timing.
Bergkamp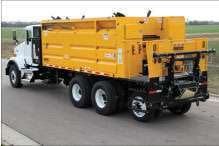 Slurry or micro paver
Bergkamp's M212 truck-mounted slurry seal and microsurfacing paver carry 12 cubic yards of aggregate in a level struck load, 691 gallons of asphalt emulsion and 691 gallons of water and features a 65-gallon stainless steel additive tank. The pugmill, conveyor and all-liquid material tanks are removable for easy cleaning. All tanks are bolted in rather than welded. Asphalt emulsion and water tanks are separate components, which eliminates possible rust-through and contamination of products. The M212 has a full-width working platform so operators can see both sides of the unit, the spreader box and the material being placed. A remote sideshift control lets the spreader box operator control the box from the ground.
BOMAG
TVR with dual travel levers
The new BOMAG BW138AD-5 tandem vibratory roller features dual travel levers and Smart Drive steering wheel, a foldable ROPS and larger drum diameter. The machine is also equipped with a pressure water sprinkler system with a high-capacity 81.9-gallon water tank for extended operation intervals between refills. A Tier 4i 44.6-horsepower, water-cooled Kubota diesel delivers a maximum centrifugal force of 10,800 pounds. With a working width of 54.3 inches, the roller includes larger 35.4-inch-diameter drums and provides dual vibration frequencies of 3,480 or 2,820 vpm. The roller's bolt-on oscillating and articulating joint enables the rear drum to follow the same path as the front drum while turning.
Chicago Pneumatic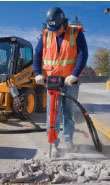 High-back pressure breakers
Chicago Pneumatic has updated its line of medium- (BRK 55 HBP), heavy- (BRK 70 HBP) and super-heavy-duty (BRK 95) high-back pressure (HBP) breakers to accept the higher return pressure found on skid steers. Able to accept up to 515 psi (35 bar) of back pressure, their high pressure tolerance also permits the use of much longer hoses on job sites where space and access can be an issue. The BRK 55 HBP works with both 8 gpm and 5 gpm power packs. The BRK 70 HBP breakers are ideal for heavier demolition jobs, and are suitable for use on tough materials such as asphalt, frozen soil, and reinforced concrete, says the maker.
Miller Electric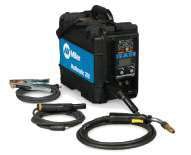 All-in-one portable welding power
Miller Electric's Multimatic 200 all-in-one portable multi-process welding power source does MIG, Stick and TIG welding processes in one compact design. The new Auto-Set Elite feature allows operators to quickly and easily set weld parameters based on material type and thickness, as well as fine-tune those parameters to match each specific application. The system has an impact-resistant polycarbonate case, weighs 29 pounds and connects to common 120- and 230-volt power receptacles with the Miller-exclusive MVP multi-voltage plug. Similar to the Millermatic Passport Plus, the machine offers positive arc starts and a stable arc with minimal spatter when MIG welding – with mixed gases and straight CO2.
Schwing
Caterpillar standard
Caterpillar engines are now standard equipment on Schwing America's SP-305, SP-750-15 and SP-750-18 stationary concrete pumps. These models with Cat power offer a versatile range of capabilities including shotcrete, grout and concrete pumping. The twin-cylinder, all-hydraulic pumps use exclusive Schwing features to pump concrete with up to 1.5-inch aggregate. Output for the SP-305 is up to 30 cubic yards per hour with up to 625 psi applied to the concrete. The SP 750-15 and 750-18 offer outputs to 70 cubic yards per hour with up to 1,100 psi on the concrete.
Chicago Pneumatic
Compressor designed for heavy-duty construction
The new Chicago Pneumatic CPS 750 JD7 Tier 4a rotary screw, portable compressor generates 750 CFM of air at 100 psi. This air end has been engineered to reduce the horsepower required to produce the 750 CFM, resulting in better fuel efficiency. Air pressure adjusts from 58 psi up to 100 psi. The electronically controlled, water-cooled engine, variable speed fan, and new air end reduces fuel consumption to 8.2 gallons per hour at 100 percent load, according to the manufacturer. The machine fits cleanly into a single-axle, fast-track enclosure. This new sound-dampening enclosure is more compact than competitively sized compressor packages, according to Chicago Pneumatic.
Terex
RoadMix with new EGR system
The new Terex CR662RM RoadMix material transfer vehicle and paver meets Tier 4i (Stage 3B) emissions standards. Offering the same 260-horsepower output as the previous model, the machine's new EGR power unit is 5-percent more fuel efficient to extend operating intervals between tank refills, according to Terex. A new cooling system arrangement features larger radiator core size and improved airflow to increase ambient operating temperatures to 120 degrees F. To offset increased space requirements of the Tier 4i engine components, Terex engineers developed a new low-profile hood design that slopes downward away from the operator to improve hopper visibility. Components from the paver's fume recovery system have been moved from underneath the operator's platform to under the hood, lowering operating noise levels and improving operator comfort.
Western Star
New powertrain options
Western Star Truck Sales has new powertrain options for all 6900 Model configurations. In addition to the Detroit Diesel DD16, the Detroit Series 60 Tier 3 engine is now available for the Western Star 6900 Twin Steer (TS) truck model. The Series 60 Tier 3 features a single stage turbo and no EGR. The engine's design also eliminates the need for any kind of regeneration, further enhancing its efficiencies, according to Western Star. The Allison RDS 4500 and 4700 automatic transmissions are also available for the 6900TS. All powertrain options are now available to order.
Weiler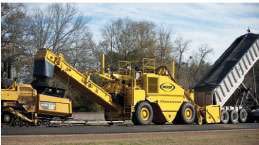 Remixing at 194 fpm
Weiler E2850 Remixing Transfer Vehicle (RTV) is designed to help improve smoothness and handle large volumes on high-production paving jobs. It is a larger version of the proven E1250A RTV. The machine has working speeds of up 194 feet per minute, even when the hopper is at or near its full capacity of 25 tons. Optional rear steer provides a tight inside turning radius of 14 feet. The steering angle returns to center on demand. A flow divider with a momentary switch provides equal force to the front and rear wheels for enhanced traction when working on uneven terrain. The electronic controller provides instant feedback on hydraulic pressures, ground speed and engine operation. The operating platform hydraulically extends beyond the mainframe from zero to 12 inches in either direction for improved visibility on the right or left sides, making it easier for operators to see and be seen. Three-speed hydrostatic drive powers Cat planetaries for on-the-fly shifting.
Kenworth
Cummins natural gas option
Kenworth Truck Co. is expanding its line of green products by offering the Cummins Westport ISX12 G heavy-duty natural gas engine for use in regional haul, vocational and refuse markets. The new engine requires a single fuel source and can run on either compressed (CNG) or liquefied (LNG) natural gas. The ISX12 G will be available with the Kenworth T660, T800, T800 short hood, and the Kenworth W900S. The engine will come with a range of ratings to 400 horsepower and 1,450 pounds per feet of torque, optional engine brake and manual and automatic transmission capability to meet customer needs, according to Kenworth.
John Deere
Five technologies for business
The John Deere WorkSight integrated suite of technology solutions for business optimization consists of five technologies including the following: JDLink machine monitoring system, Fleet Care proactive machine health program, Service ADVISOR, Remote dealer diagnostics, grade control, and payload weighing. The JDLink proprietary system provides machine location, utilization measures, and maintenance tracking via a Website. Two service levels are currently available. John Deere also notes, "Keep a lookout for future integration of wheel loader payload data into JDLink."
Kenco
No hydraulic hookups needed
Kenco's New Generation Barrier Lift attachment can handle concrete median barriers, sound walls, curbing and piling, and align barriers that have already been placed. No hydraulic hookups are needed — the barrier lift automatically closes to securely grab the wall and doesn't release until the wall is set into position. It boasts a 6- to 12-inch grip range and 33-percent wider elastomeric pads provide excellent gripping performance, even in wet weather, according to Kenco. A swing-away handle permits safe manual handling. All models are available with optional self-aligning guides. Lifting capacities from 9,000 to 30,000 pounds.
Komatsu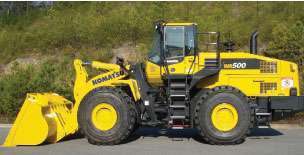 Optimal torque
Komatsu America Corp.'s WA500-7 wheel loader is powered by a Komatsu SAA6D140E-6 engine with a net horsepower of 353 and is EPA Tier 4i and EU Stage 3B emission certified. The WA500-7 has an operating weight of 76,611 pounds when equipped with a 7.3-cubic-yard general purpose bucket and a maximum speed of 22.1 mph. The machine features Komatsu Smart Loader Logic for optimal engine torque and fuel savings. The Komatsu Equipment Management Monitoring System (EMMS) has enhanced diagnostic features that give the operator and technicians greater monitoring and troubleshooting capabilities. A high-resolution backup camera is standard.
Henderson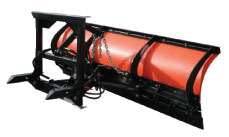 Multiple option, medium-duty snow plow
Henderson's MTP medium-duty, trip-edge reversible snow plow features multiple moldboard options (orange polymer, carbon steel or stainless steel), trip-edge with adjustable torsion springs, outboard reversing cylinders, level-lift, reinforced pivot points, electric or hydraulic cab control, and quick connect/disconnect. The plow's trip-edge, outboard reversing cylinders and reinforced pivot points combine for performance outside the norm for medium-duty snow plows, according to Henderson. The MTP's level-lift holds a level position throughout the reversing cycle, keeps the plow low and out of the operator's line of vision (at all times) and holds the plow high enough to avoid digging into roadways while not in use.
Kennametal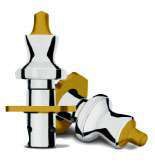 Razor Cuts
The Road Razor ECO Pro from Kennametal combines a unique and proprietary shape with improved hardness throughout the head area and a thicker nonagon-shaped washer. At the tip end, the Road Razor ECO's proprietary point design is combined with Kennametal's advanced carbide grades and higher head hardness, results in less cracking and longer performance in even the most abrasive asphalt conditions. Moving down the tool, a unique and proprietary, thicker, nonagon-shaped washer, extends the life of the toolholder allowing maximum tool life. The nonagon design with overhanging corners also makes cutting easier by encouraging tool rotation. At the retainer end, thicker material ensures exceptional fit and rotation throughout the life of the tool.
Weiler
Winning windrow elevator
Weiler has released the E550A windrow elevator, which is 1,500 pounds lighter than the Weiler E650A Handling tall windrows placed by belly dumps is among the E550A's capabilities, its 60-inch-wide throat is well matched to the high-production, continuous paving. Slats are 58 inches wide and 7 inches deep to provide easy entry from the windrow. The windrow elevator is capable of working at wide widths as well. Wing width can be extended from 102 to 124 inches. An added feature available to paving contractors is the optional remixing chamber located at the discharge conveyor of the machine and which can be hydraulically engaged or disengaged.
Hitachi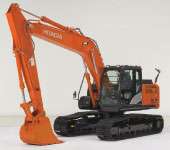 Better fuel efficiency, lower noise levels
The Hitachi Zaxis Series excavators have better fuel efficiency, lower noise levels, and excellent comfort says the company.The ZX160LC-5 replaces the ZX160LC-3, and the ZX210-5 and ZX210LC-5 replace the ZX200LC-3 — all introduced in 2007. The ZX210LC-5's undercarriage is 12 inches longer than the 210 and supports a greater lifting capacity. The Isuzu AI-4JJ1 diesel engine used in the ZX160LC-5 generates 121 horsepower; the ZX210-5 and 210LC-5's Isuzu 4HK1 engine generates 159 horsepower. The engine employs cooled exhaust gas-recirculation (EGR) platform paired with a diesel particulate filter (DPF) to meet EPA IT4/EU Stage 3B emissions regulations.