Road Into Bridge
A massive landslide causes Tennessee DOT to rethink its rebuilding
By Tina Grady Barbaccia
Sometimes it's just better to start over.
That's exactly how the Tennessee Department of Transportation (TDOT) decided to handle the collapse of a nearly three-mile stretch of State Route 7 in Maury County after a huge landslide following devastating flooding.
Faced with a daunting rebuilding, TDOT dramatically changed course.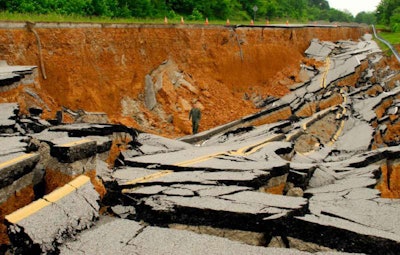 Heavy rains saturated the ground underneath the pavement, causing two sections of the roadway to collapse and slide down a steep embankment, closing the roadway for several months. The extreme weather and flooding struck southern middle Tennessee April 30 to May 2, 2010. The stretch of State Route 7 located in the Santa Fe community in the northwest section of Maury County was shut down while a concrete deck bridge was built over the crumbled roadway.
Following the landslide, TDOT determined that constructing a bridge over the damaged section of roadway would be more cost-effective than reconstructing the area.
So, TDOT built a 684.5-foot-long, 62-foot-wide, three-lane, five-span bridge. The project had a total of 338,580 cubic yards of road and drainage excavation, and 547,502 pounds of steel bar reinforcement was used. The bridge work used 2,257 cubic yards Class of A, D and S concrete.
The concrete girder deck bridge first had to be designed, and was then let to contract in December 2010. Construction on the $9.5-million project began in early 2011, and the ribbon-cutting for the bridge was Nov. 30, 2011. TDOT Commissioner John Schroer says that "this was the most extensive repair project initiated by TDOT after the May 2010 floods."
A Sinking Road
The two landslide areas involved nearly 1,500 feet of roadway. In some places, the road sank 20 feet below its original elevation, prompting TDOT to initiate an emergency contract for geotechnical studies of the soil in the area and for the design of the repairs. "It's rare to see a landslide of this magnitude," says TDOT geotechnical engineer Vanessa Bateman.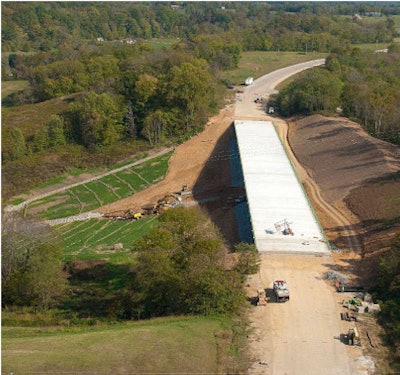 Before action was taken to begin stabilization of the soil or any repair decisions were made, Bateman noted that "any subsequent wet weather could trigger more slides in this area and could further complicate repair efforts. The ground remains extremely unstable."
TDOT chief engineer Paul Degges refers to the rain as "a thousand-year rainfall – a very improbable event. Our average annual rainfall is 45 inches." Degges says that although the state highway transportation system fared well – no bridges washed out – State Route 7 in Maury County was another story. "We had a road riding on the side of a ridge, and all of the earth got saturated," says Degges. "There was a great big earthslide." The slide was about 300 feet along the center line of the road, but it slid about 1,000 feet into the valley, he says.
"We had 300 feet by 1,000 feet of unstable soil," Degges points out. "When you have a big failure like this, you have to know how deep down it is moving. It was 40 feet down and was moving. For us to build the road back, we would have had to dig up all of the dirt, rebuild and then compact it in a stable form." As the state agency was going through the process of coming up with cost estimates to conduct these procedures, the numbers were coming in at about the $15-million range. "Moving and compacting that amount of earth in today's financial climate is very expensive," Degges says.
That's when he proposed to his staff the idea of just rolling dirt, draining it and then only stabilizing the areas where the piers for a bridge would be. By choosing to drain, stabilize and compact specific areas, and build a bridge instead of rebuilding the roadway, Degges says TDOT was able to save about one-third of the cost, bringing the outlay down to about $10 million.
The job also qualified for emergency relief funds, with TDOT expected to receive about 80-percent reimbursement. Nearly $40 million in emergency relief funds was made available for damage spanning 50 to 60 percent of the state of Tennessee. The May 2010 floods caused millions of dollars in damage to the state's transportation infrastructure. TDOT worked with the Tennessee Division of the Federal Highway Administration (FHWA) to quickly initiate contracts and complete repairs to numerous roads and bridges across the state. The FHWA (at publication time) had reimbursed TDOT for $39 million in flood-related repairs, with $1.8 million of those funds dispersed to local governments.
For public assistance projects that are eventually approved: Federal Emergency Management Agency (FEMA) will pay 75 percent of the cost. The remaining 25 percent is split between the state and local government. These projects may include such things as debris removal, emergency services related to the severe storms and flooding, and repairing or replacing damaged public facilities.
"Working in the public sector, we have a fiduciary responsibility to try to use the tools available to us and the best solution at the lowest price," Degges says. "I'm a structures guy. When you get a fill taller than 35 feet, it starts getting cost-effective to put in a bridge [instead of repairing the roadway]."
Restoring Access to a Community
Degges is quick to point out: "I don't want to portray it as rocket science; it just made the most sense to build a bridge instead of repairing the road." When the roadway collapsed, it cut off access to an entire community. "The scope of our department is to keep traffic flowing, so we needed to get the road open in a hurry."
The detour was via an old state highway without any shoulders, making time of the essence, Degges says. "We needed the road open quickly while being fiduciary with the taxpayer dollars." When the decision was made that it was most economical to build a bridge, then the question arose, "Could we design a bridge, get it under contract, and meet our time objective of getting it open [quickly]?"
TDOT's goal was to have the bridge open before the year ended. That left one construction season to build the bridge, including time to do some major geotechnical work. "We really wanted to make the project open to traffic before the end of 2011."
The project was put on an accelerated schedule, a move assisted by the fact that the road was closed.
However, in addition to building the bridge and stabilizing the soil around the roadway, TDOT also had to deal with some slope failures. "There was some additional earthmoving that had to be completed adjacent to the project," Degges explains.
To work with some of the slope failures, Degges says TDOT installed some longitudinal drains, sometimes referred to as slope drains, to assist with the water. "We worked it so [the water] drained, and then we came in and put in the longitudinal drain to drain water out from beneath the slope," he says. "This helped to stabilize the material there. Water causes stuff to move. It lubricates things and makes stuff slide. We were trying to make sure we got as much water out of the slope as possible. When you have a failure like this, we have to know how deep down it was moving. It was a technically challenging project."
Carolyn's Silver Lining
From out of the May 2010 devastation around the town of Santa Fe came a little piece of uplifting news.
While the section of State Road 7 was closed, traffic was detoured onto Old State Route 7 though Santa Fe, and ended up being a blessing to Carolyn Oakley, owner of a local diner, according to a local television report.
Without the road collapse there never would have been a detour, and that may have been the end to the diner, struggling to keep its owner afloat financially and itself hard hit by floodwaters.
But the detour was routed straight past the front of that diner.
According to WKRN TV-Nashville, the diner flooded with 20 inches of water and owner Oakley had to rip out everything and start all over. Although Oakley thought it was a nightmare at the time, she later considered the flood to be a blessing in disguise. "It's doubled my business," Oakley told News 2. "Thank gosh, because at first I was going paycheck to paycheck to survive, but now it's taken a lot of load off me because business is so good."
The Maury County State Route 7 Bridge Project at a Glance
Project: Maury County State Route 7 bridge construction. State Route 7 is a south-north route in Maury County from the Alabama state line in Giles County, Tenn., to SR-100 in Hickman County
Contractor: Hills Brothers Construction
Sub-contractor (played a large part in drilled shafts for the bridge): Long Foundation Drilling
Road and drainage excavation: 338,580 cubic yards
Contract dates: Effective Dec. 27, 2010; completed Nov. 30, 2011
Bridge dimensions: 684.5-foot-long, 62-foot-wide, three-lane, five-span
Concrete used: 2,257 cubic yards consisting of Class A, D and S concrete
Steel reinforcement: 547,592 pounds used
Go to our digital issue at www.betterroads.com  for a picture gallery of the landslide and the replacement bridge.