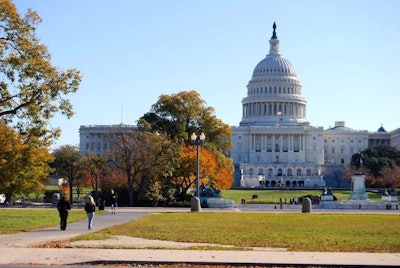 The federal government shutdown has been in effect for nearly two weeks and has so far resulted in 18,481 furloughs in the U.S. Department of Transportation and the suspension of most DOT programs not safety-related.
Many DOT administrations have stopped social media and web interactions because no one is available to monitor them, and ARTBA President and CEO Pete Ruane said last week that transportation projects have been delayed due to the shutdown.
National Transportation Safety Board (NTSB) Chairwoman Deborah Hersman discussed on Friday how the shutdown has affected the NTSB, according to a report from The Hill.
Since the shutdown began on October 1, NTSB has needed to stop thousands of accident investigations, Hersman told the Senate Commerce, Science and Transportation Committee at a hearing on the impacts of the government shutdown.
Hersman told the committee that only 22 of the agency's 405 employees are still at work, which has left most investigations unfinished.
"Here is what we are not doing in the 10 days that have passed since the shutdown: Fourteen accidents have occurred in which we have not dispatched investigators, including an eight-fatal bus crash that occurred in Tennessee, a four-fatal general aviation accident that occurred in Arizona and a worker fatality that occurred just blocks from here on Washington's Metro system," Hersman told the lawmakers.
Hersman also said the shutdown has resulted in the delay of investigations of the Metro North commuter railway accidents in New York City and the Asiana Airlines crash in San Fransisco, which both occurred earlier this year.
Additionally, NTSB cannot assist international transportation agencies with investigations, which Hersman said the agency usually does "routinely."
"In the last 10 days we have declined two international requests for assistance and one request from the State Department for support," Hersman said. "While we are shut down, the NTSB is not able to fully represent U.S. interest in aviation around the world."
"In addition to the activities that we are not initiating, the shutdown has resulted in a suspension of work on over 1,000 investigations in all modes of transportation," Hersman added. "These delays slow our determination of probable cause and the issuance of safety recommendations, essentially delaying safety to the American public, resulting in lost lives and injuries."
During a shutdown, Hersman said, NTSB can only investigates cases involving "imminent threats to safety of human life or protection of property."