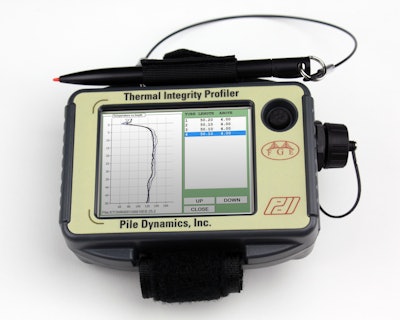 The Deep Foundations Institute (DFI) announced last week that the Thermal Integrity Profiler (TIP) has won the 2013 C. William Bermingham Award for Innovation.
The award, created in 2012, encourages and recognizes innovative contributions to deep foundation technology.
The TIP won the award based on its use of heat generated by curing cement to evaluate the integrity of cast in place concrete foundations or the shape of concrete structures.
Researchers at the University of South Florida (USF) initially developed the technology, and Foundation & Geotechnical Engineering, LLC (FGE) and Pile Dynamics, Inc. (PDI) jointly incorportated the technology into the TIP.
Dr. Gray Mullins, from USF and FGE, will accept the award on behalf of FGE and PDI at DFI's Annual Conference in Phoenix, Arizona, September 25-28. Mullins will also give a presentation on the TIP at the conference.
For more information about the Thermal Integrity Profiler, visit pile.com/pdi/products/tip.