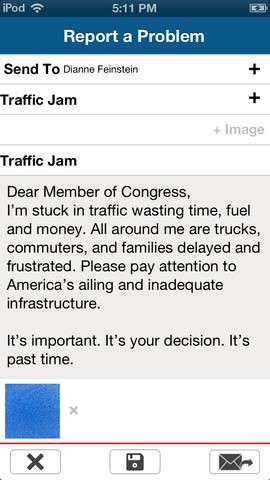 When Congress reconvenes on September 9, U.S. lawmakers can expect to come back to more than 2,000 messages from Americans urging them to take action to repair the nation's transportation network.
"Congress can expect to return from their summer vacation to thousands of messages from aggravated Americans who are demanding modern, reliable transportation options and are frustrated that they spent Labor Day weekend stuck in traffic," said Edward Rendell, former Pennsylvania governor and Building America's Future (BAF) co-chair. "Congress has a responsibility to help states and cities modernize the critical transportation systems that Americans use every single day."
"I'm Stuck" users in all 50 states and in D.C. have sent messages to U.S. Representatives and Senators.
"I'm Stuck" is a mobile app BAF released about a month ago that allows travelers to inform elected officials about transportation problems. To date, more than 10,000 people have downloaded the app and those users have sent more than 2,000 messages to members of Congress.
"We're excited that 'I'm Stuck' has been used in all 50 states and Washington, D.C.," said Marcia Hale, president of BAF. "More than 2,000 'I'm Stuck' messages have been sent to Members of Congress, and we hope that Americans continue to use this app to push Congress out of gridlock. The larger message of 'I'm Stuck' is that Americans have a voice and it is past time that Congress listens to them."
The "I'm Stuck" app is available free of charge in for Android and Apple devices.