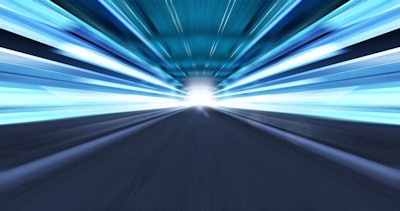 Tesla Motors CEO and co-founder Elon Musk has proposed a "hyperloop" rapid transit system that would travel at 800 mph, according to a report from Minyanville.
Musk announced his concept Monday on Twitter:
"Will publish Hyperloop alpha design by Aug 12. Critical feedback for improvements would be much appreciated."
The system would travel at about twice the speed of an airplane and, as Musk noted, would allow a passenger to travel from San Francisco to Los Angeles in about 30 minutes.
Musk described the system as "a cross between a Concorde, a railgun, and an air-hockey table" and noted that it will be crash-proof, always available, less costly than current travel options and solar-powered. He also mentioned that the system would not be a vacuum tunnel.
Musk hasn't provided many other details. However, Gizmag writer and rocket scientist Brian Dodson speculated that the system could be a pneumatic transport system (PTS), which would use a closed subsonic tube looping between Los Angeles and San Francisco.
Musk has called the hyperloop "the fifth mode of transportation." He said the design will be available as "open source" and he will not seek any patents for it.