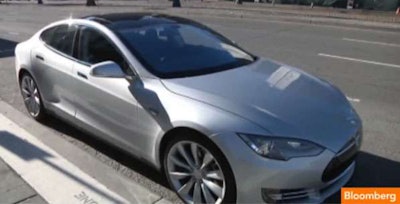 Tesla Co-founder Elon Musk has begun discussing with Google ways to add driverless technology to Tesla's electric cars, Bloomberg reported.
Tesla, like many other automakers, is looking for the best way to implement the technology so it will enhance user safety and convenience.
However, one major roadblock is the current cost of Google's driverless technology–about $150,000 for the equipment alone. Musk said switching from Google's sensor system to an optical system could help lower costs.
Musk told Bloomberg he wants Tesla's cars to be reasonably priced so mainstream customers can purchase them. The vehicles are still pricey–the Roadster started at $109,000 and the Model S sedan had a base price of $69,900–but Musk said he intends to offer a model starting around $30,000 in the next few years.
Despite talks with Google, Musk said Tesla is likely to develop its own optical driverless system.
"However, it is also possible that we do something  jointly with Google," Musk added.
Musk pointed out that there are no set plans to add driverless technology to Tesla vehicles, referring to his comments about discussions with Google as "off-the-cuff." Musk said the company's focus is on electric cars or sustainable transport.
"Creating an autopilot for cars at Tesla is an important, but not yet top priority," Musk wrote on Twitter. "Still a few years from production."