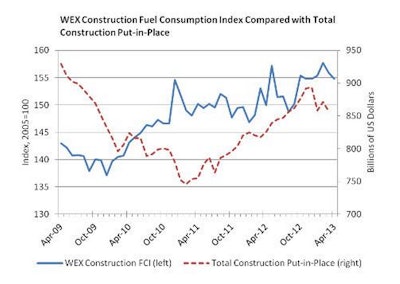 Our sister site, Equipment World, reported that the WEX Construction Fuel Consumption Index fell for the second consecutive month in April.
The 0.74-percent decrease in the construction industry's fuel consumption in April represents a slowing in construction activity. The decrease follows an adjusted 1.2-percent fall in March; the original reading was a 0.9-percent dip.
Despite the monthly decrease, construction fuel consumption in April was up 3.2 percent over April 2012. This marks the seventh consecutive year-over-year gain.
For more details, check out the full story at EquipmentWorld.com.