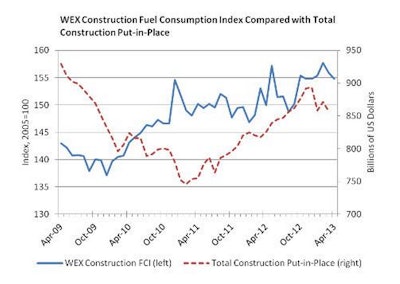 The WEX Construction Fuel Consumption Index fell for the second consecutive month in April, indicating a slowing in construction activity.
The construction industry's fuel consumption fell by by 0.74 percent in April after falling an adjusted 1.2 percent in March. The original reading was a dip of 0.9 percent.
Nevertheless, WEX notes that April marks the seventh consecutive month of year-over-year gains. Fuel consumption in April was up 3.2 percent from April 2012.
The index measures national fuel consumption statistics for the construction industry to provide an month-to-month measure of construction activity in the United States.
To illustrate the accuracy of fuel consumption as an activity indicator, WEX plots fuel consumption alongside construction put-in-place in the chart above.