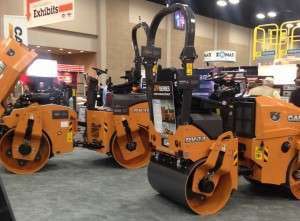 It is astounding the power and versatility you can see in small machines in the construction industries today. I constantly wonder how the older generations in the business (OMG that's me) see these marvels. So many of them do powerful precision work that was done in the not-so-distant past by crews of workers.
For example, Case introduced four new DV compact rollers at World of Asphalt in San Antonio. Dual frequency, vibration at either the front drum or both drums, Tier 4i engines, offset for edge work, pressured water tanks and so on.
Compact machines used to be the little swimmer dude who is dissed badly by the pumped up beach boy kicking sand in his face. It was in front of his girlfriend so he had to take a Charles Atlas bodybuilding course. (You have to be old to know this stuff.) Compact equipment has taken one of those courses.
The amount of earth they can move, the amount of asphalt they can roll, the torque involved, the breakout forces, the sophistication of their electronics that allow operators to perform precise tasks and the hours they save are something to behold.
They are, in their own way, poster children for the OEMs' best engineering minds. It is impossible not to be impressed by the huge excavator or crane, the bulldozer that can move mountains or the giant wheel loader that can load the disassembled mountain into dump trucks. But the compact machine is equally impressive. It fits a genuine, pressing need and it's engineering is as much a challenge in many cases as the problems facing the men and women who build the big stuff. For example Case's compact DV rollers is easy to service and maintain. That means putting a lot of brainpower into organization and architecture in small places.
Here's a simple exercise as a sort of a allegorical test: Take the best piece of technical writing you have done in the past year, written when its length didn't matter very much. Now, cut your word count in half. Make it, as it were, a compact version of the long form.