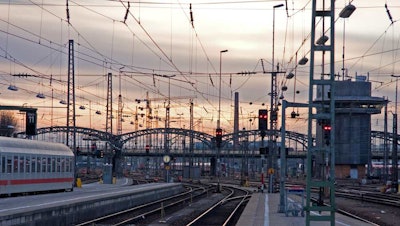 Before next month's huge bauma construction equipment trade show in Munich, Germany, the world's largest this year, was January's two-day pre-bauma media dialogue.
It was wet, cold, snowy, windy and a blast. I have my favorite indoor and warm places there. Food is involved.
You cannot help but be impressed by Germany's transportation infrastructure. It gets your attention. We should be so lucky, as they say. But comparing German apples and American oranges just doesn't work.
The autobahns are superbly built and maintained. But the fuel taxes are wildly high and not dedicated to roads. Speeds are high, and that is a rush, but truck traffic is severely regulated on road use and that's a counterbalance for freight movement with significant cost implications.
Munich airport is fun. Yes, fun. Easy to get into and out of, full of all sorts of shopping and dining and so much more hassle free than most American airports. But again the model has to be viewed from a distance. As with the roads, it's an operation that we could learn from, cherry picking what might work for us, rather than a blueprint we should try to reproduce.
Rail and high-speed rail are extremely effective people movers in Germany. Arrive in Munich (or Paris or London for that matter) and trains slice you through the suburbs to the city center. But you realize that the rail right-of-ways expanded with the cities, they were not cut through existing buildings and other infrastructure. So again the mismatched fruit problem.
And it was rail travel that almost got me arrested. There was a Saturday protest march (uneventful) and fully equipped riot police were out in force. I spent the day being a tourist with my iPhone's video camera and provided commentary for the family for one of those excruciating nights back home where they would relive my Munich trip with me. Yes they would. (Hey, I watched enough vacation slides as a kid to know how much fun this can be.)
Late in the day I was filming trains at the main railway station. I was tapped on the shoulder. I turned. Riot police. Five of them. The biggest guy said something in German. My German is virtually non-existent. English? Why are you filming the police? You know that feeling when your stomach hits the ground? Sure enough there they were in my trains video. I explained shakily that I was filming trains. They seemed unconvinced. Then I got a bright idea. I showed them the day's rank amateurish home videos and suddenly unfunny commentaries. They smiled and left. My bumbling tourist persona had set me free.