If you'll be traveling through Indiana and Illinois this evening and tomorrow, please be prepared for challenging winter weather and check highway, city and county road conditions.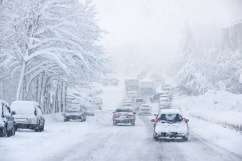 According to report provided by the Indiana Department of Transportation (INDOT), ice precipitation is forecast for overnight and morning travelers.
In my area of Illinois (DuPage County), conditions are expected to be rough through tomorrow evening.
Both INDOT and the Illinois Department of Transportation (IDOT) say they'll be out in full force. INDOT says it will continue to monitor multiple developing forecasts, as well as a statewide network of road and bridge pavement sensors, to deploy the needed personnel, equipment and materials ahead of the predicted winter weather.
State highways and interstates have been pre-treated with brine, a salt and water mixture, and INDOT trucks will be patrolling ahead of the storm to monitor road conditions.
If your agency is implementing any special plans of action for pre-treating roads or for during and post winter events – or even if you're using any innovative materials (such as your own homemade brine) for winter storm events, I'd love to hear about it so I can share it with other readers.
Please e-mail me at tgbarbaccia@randallreilly.com or post to our Facebook Page at www.Facebook.com/BetterRoadsMagazine.
I look forward to hearing from you!