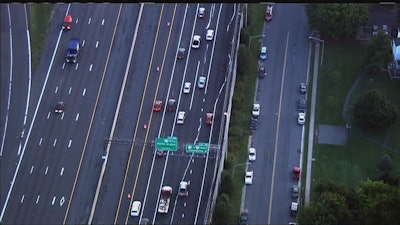 Virginia Department of Transportation crews had a mess to clean up when temporary striping tape installed on Interstate 66 peeled off and created crooked, narrow lanes. The crooked lanes caused mass confusion among drivers which resulted in lengthy traffic delays.
Two vehicles were involved in a nasty accident, however, it has yet to be determined if the accident was caused by the crooked lanes. Both vehicles were towed away.
The markings were installed on Aug. 15 as part of a temporary lane shift expected to last several months. Crews rushed to fix the markings. VDOT is still investigating what caused the markings to peel off.
"We created quite a nightmare for commuters and we apologize for that," said VDOT spokesperson Joan Morris.
VDOT assures drivers that once it finds out what caused the marking to peel off, it will make sure it never happens again.