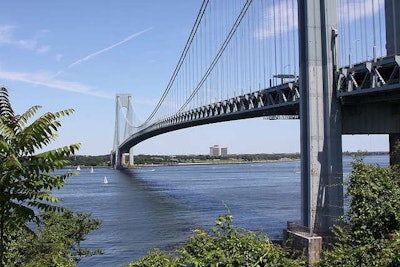 The Verrazano-Narrows bridge that connects Staten Island and Brooklyn will have its 50th birthday celebrated with an exhibit chronicling its construction.
The Metropolitan Transportation Authority (MTA) unveiled the exhibit , "Spanning the Narrows for Five Decades." It celebrates the half centennial of the bridge with pictures of its construction, parts that were formerly on the bridge and historic memorabilia from its opening.
"When the bridge opened 50 years ago, it brought Staten Islanders closer to their fellow New Yorkers," said James Fortunato, Executive Vice President and Chief of Operation for MTA Bridge and Tunnels. "The story of how the bridge is built is as compelling as its legacy."
The exhibit will be open at the Historic Richmond Town until the end of the year.
According to David Riggs, facility engineer for the bridge, nearly 200,000 vehicles travel between Staten Island and Brooklyn on the bridge every single day. Around 66 million vehicles use it every year.