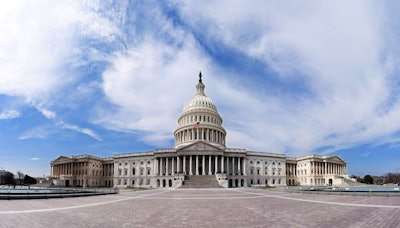 Sen. Ron Wyden (D-Ore.), chairman of the Senate Finance Committee, has offered a transportation infrastructure funding solution, but it's not the multi-year plan many transportation advocates have been expecting.
Wyden's proposal — an amendment to the Preserving America's Transit and Highways (PATH) Act — is a three-month, $9 billion patch that would provide funds through the midterm elections, The Hill reports.
Politico notes that multiple tax changes, including one that would raise taxes on trucks weighing more than 97,000 pounds, would bring in revenue for the proposed solution. (See all of the tax changes here. For details from the Joint Committee on Taxation about the estimated revenue effects, click here.)
Wyden said the plan is an "imperative first step" toward a long-term bill.
"Strong transportation and infrastructure are critical to a growing and healthy American economy," Wyden said in a prepared statement. "I hope to see the committee take decisive bipartisan action and send a clear message that stabilizing the Highway Trust Fund is a priority now."
The current highway bill, MAP-21, expires September 30, but the Highway Trust Fund (HTF), the main source for funding projects, is projected to run out of money a month prior. Wyden's proposal would prevent HTF insolvency until December 31. (Read the full text of the proposed bill here.)
According to The Hill, Wyden previously opposed a stopgap for transportation.
"It would be a tragic mistake to let highway funding become another stop-and-go extender like Medicare physician payments and many important tax incentives," Wyden said during a committee meeting in May. "Relying on short-term policies, emergency patches, and temporary extensions makes forward-looking strategies impossible, and when it comes to infrastructure, planning ahead is absolutely essential."
The Senate Finance Committee is scheduled to mark up the bill Thursday morning.