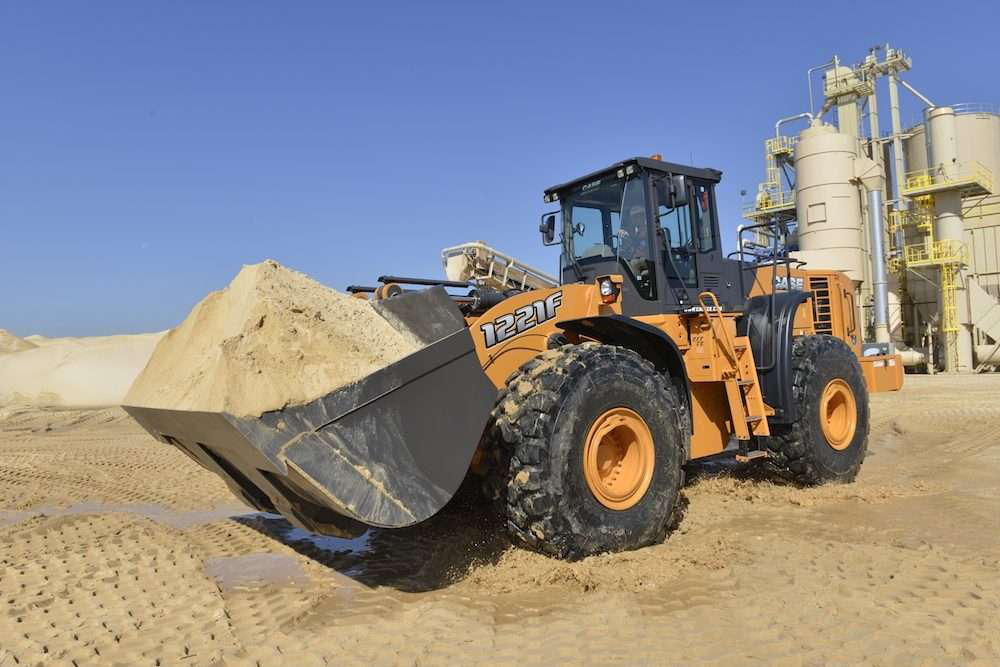 Case Construction Equipment has introduced its 1221F wheel loader, which is the largest in the company's F Series and built for heavy earthmoving and loading applications.
A 11.9-liter Tier 4 Interim-certified, cooled exhaust gas recirculation (CEGR) engine with diesel oxidation catalyst (DOC) and diesel particulate filter (DPF) powers the machine, delivering up to 355 horsepower. The engine provides clean burning power and increased torque compared to previous models.
The 1221F has an operating weight of 66,800 pounds and bucket sizes ranging from 6.3 to 7.8 cubic yards. A 6.8-cubic-yard bucket offers a 55,730-pound breakout force with tilt cylinder.
The loader is available in standard Z-bar and extended-reach (XR) configurations.
Four programmable power modes save fuel and increase available power, while a dual-mode shutdown feature boosts fuel efficiency and monitors vital engine components.
The large cab has a full glass door; an unobstructed view of both edges of the bucket; a sloping hood; a 73-decibel rating; a dual air filtration system; a fully adjustable, heated and cloth-covered air suspension seat; ergonomically positioned controls with optional joystick steering; and a rearview, wide-angle camera with an adjustable color monitor.
The 1221F features a new coupler system that pull the bucket closer to the machine. The system uses the Case SmartFit bucket tooth system for more durable teeth and adaptors, as well as hammerless reusable locking pins designed to improve digging performance.
Other features include standard four-speed transmission with manual kick-down, open rear-axle and locking front-axle.
An optional five-speed transmission  with a lockup torque converter, open-differential axles and advanced system programming is also available.
The machine's daily service points and drain valves are easily accessible. The fuel fill point, cooling fan and radiator have also been relocated to simplify maintenance.
The 1221F wheel loader comes standard with Case ProCare, which includes a three-year Advanced Case SiteWatch telematics subscription, a three-year/3,000-hour full-machine factory warranty and a three-year/3,000-hour planned maintenance contract.