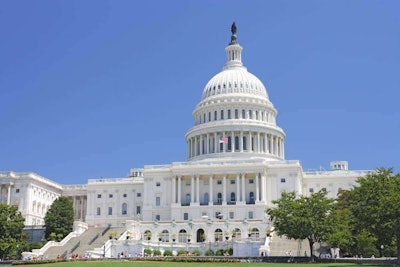 The $1 trillion government spending bill for 2014 cleared Congress yesterday, providing a total of $71.3 billion for transportation spending.
The bill passed in the Senate yesterday with a 72-26 vote, Politico reports. The House approved the bill earlier this week on a vote of 359-67.
The bill provides $17.8 billion in discretionary appropriations and $53.5 billion in non-discretionary "obligation limitation" funding for the DOT — $164 million below last year's enacted level and $4.9 billion below President Obama's request.
The bill notes that the spending cuts included "ensure funding is available for more critical programs like staffing the nation's busy airports [and] maintaining roads and bridges."
Here's a breakdown of how those appropriations are divided:
Highways: nearly $41 billion in non-discretionary funding for the Federal Highway program — the same level MAP-21 authorized and $557 million more than in 2013.

Air: $15.75 billion total [$12.4 billion for the Federal Aviation Administration (FAA); $3.35 billion in non-discretionary funding for airport construction projects] — Funding for the FAA is $168 below the fiscal year 2013 enacted level; also included is war risk insurance, which "insures airlines against catastrophic losses due to terrorism or other acts of war" through September 30, 2014.

Rail: $1.6 billion for the Federal Railroad Administration (FRA) — a decrease of $34.6 from last year; does not include funding for high speed rail.

Transit: $12.85 billion total [$2.15 billion for the Federal Transit Administration (FTA); $8.6 billion for state and local transit grant funding; $2.1 billion for Capital Investment Grants, state and local "Small Starts" and "Full Funding Grant Agreement" projects] — FTA spending is $100 million below the 2013 level; transit grant funding, "consistent with MAP-21," is provided by the Mass Transit Account of the Highway Trust Fund.

Safety: $1.4 billion total [$819 million in mandatory and discretionary funding for the National Highway Traffic Safety Administration (NHTSA); $585 million for the Federal Motor Carrier Safety Administration (FMCSA)] — NHTSA funding is $8.9 million above 2013 levels; FMCSA funding is $24 million above 2013 levels; the Pipeline and Hazardous Materials Safety Administration (PHMSA) is provided $12.8 million more than the 2013 enacted level.
To read the Transportation, Housing and Urban Development (THUD) portion of the omnibus bill, click here.
For a summary of the government spending bill for fiscal year 2014, click here.