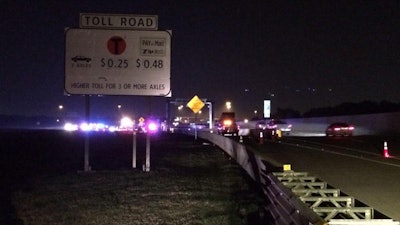 A highway construction worker has been killed while working on President George Bush Turnpike in Grand Prairie, Texas.
According to investigators, a construction convoy consisting of a large truck with a large blinking arrow and a pickup truck carrying a trailer, with one construction worker onboard, was going at a very slow speed on the shoulder. The worker riding in the trailer was putting reflective markers on the road.
A Chevrolet Impala hit the truck with the trailer, instantly killing Camerino Sixtos, 41, who was putting out the reflective markers.
The driver of the pickup did not suffer life-threatening injuries.
After the Impala hit the truck and trailer, it went across three lanes and hit another construction vehicle. The two people inside the Impala then exited the vehicle and skedaddled from the scene in another vehicle that wasn't involved in the crash.
Police say the vehicle was not stolen and they are in the process of tracking down the occupants of the Impala at the time of the crash.
The two people will be looking at felony charges.