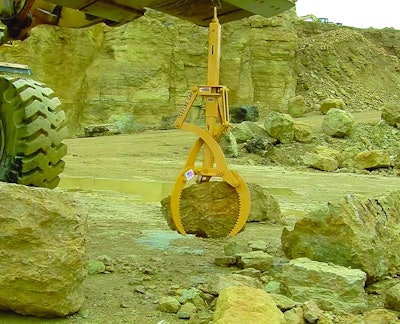 Caldwell
Caldwell says odd-sized boulders and irregular loads of scrap are no match for its new RG Multi-Grapple Lifting System.
Available in 3,000- or 6,000-pound capacity versions, the RG Multi-Grapple has three arms designed to provide stability while lifting rocks, steel scrap, wooden blocks and more. The unit eliminates the need for synthetic slings while meeting ASME B30.20 and BTH-1 standards, Caldwell says.
Other key features of the multi-grapple lifting system include automatic latching, a center-mounted actuator that automatically locks open the grappler arms, quick load cycles and an ability to be used with any on-site moving equipment with the proper rated lifting capacity.
The system can be used with cranes, excavators or backhoes. The 3,000-pound version weighs 140 pounds, while the heavier unit weighs 265 pounds.
The RG Multi-Grapple can be purchased through Caldwell's network of distributors, which includes McMaster-Carr, Grainger and other companies that provide hardware and industrial equipment. Custom versions of the system are available upon request.