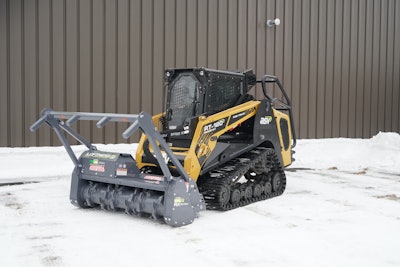 Loftness
Loftness has updated its Battle Ax S Series mulching head attachment with new levels of durability and serviceability.
The S Series mulchers are designed for high-flow skid steers and compact track loaders with hydraulic flows of 28 to 63 gallons per minute and 50 to 150 hydraulic horsepower. Cutting widths of 61 and 71 inches are available.
The Battle Ax's 17-inch rotor includes built-in depth gauges that act like raker teeth on chainsaws to prevent the attachment from biting off more – or less – than it can chew.
The two-stage cutting chamber features two shear bars, allowing the Battle Ax to produce a finer mulch with fewer passes, the company says. The material is cut first against the primary shear bar, which is adjustable for controlling particle sizes. The partially reduced material moves to a secondary cutting chamber behind the front bumper for additional processing. The secondary shear bar is now reversible for an always fresh cutting edge.
After all four edges of the shear bar have been exhausted, the bolt-on design allows it to be easily replaced. Previously, the secondary shear bar was welded on the front bumper, and only the primary shear bar was replaceable. Teeth can also be easily reversed or replaced with the removal of one hex bolt. Tooth options include Quadco planer blades, hard-surface Quadco blades and carbide teeth.
The bolt-on replaceable wear line helps protect the drum from excessive wear when working in abrasive conditions. A new recessed belt cover with welded body reinforcements protects against damage and ensures long-lasting reliability, Loftness says.
Two hydraulic motor options are available: a high-pressure, fixed-displacement gear motor, or an upgraded V-Drive variable-displacement piston motor, which automatically shifts the rotor rpm from the highest speed to a lower range for increased torque as needed.
S series mulchers come with a two-year warranty.