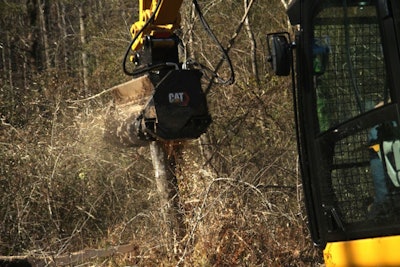 Cat
When it comes to tough forestry tasks, Cat has two new mulchers for crawler and wheeled excavators and forest machines – one of which is now its largest model.
The new Cat HM3013 is designed for Cat front-reach machines of 13 to 20 tons, and the new HM5515 is compatible with long-reach front machines from 27 to 36 tons.
The HM3013, with a hydraulic flow range of 32 to 53 gallons per minute, has a bite-limiter drum for producing fine material. The drum works best when there are few rocks and large amounts of standing timber, Cat says. This model has a 53-inch working width and can cut through trees up to 6 inches in diameter.
The HM5515 has a standard drum and a hydraulic flow range of 53 to 80 gpm. The mulcher has a working width of 62 inches and can cut through trees up to 12 inches in diameter.
Both forestry mulcher attachments feature a variable torque hydraulic piston motor that shifts between high-speed, low-torque and low-speed, high-torque to adjust power and speed to conditions, the company says. The mulchers also have hardened counter blades mounted inside the housing that further break down material.
The operator can control material throw by adjusting the hydraulic mulching door from the cab. The door can be closed when performing roadside clearing or working near powerlines.
Cat made the mulchers easier to service by providing multiple access panels and making internal components easy to remove in the field through those panels. Primary grease points are stationed at ground level.
The wear parts are replaceable. The bolt-on skids are also replaceable. They keep the mulchers from digging into the ground or into materials to prevent wear and damage. A poly chain belt-drive transmission eliminates slippage on startup, Cat says.
Specs for Cat's mulchers, including the HM3013 and HM5515, can be seen in the chart below: