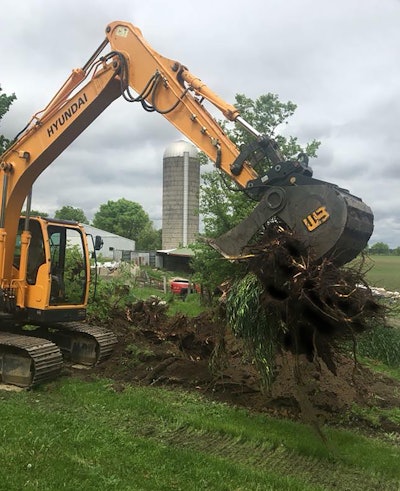 Werk-Brau's PowerGrip Bucket replaces the thumb with a 120-degree jaw opening and triple the clamping force.
The multipurpose bucket is designed to bring precise placement control to enhance an excavator's grading, trenching and clamshell operations. It can be used on excavators up to 50,000 pounds for such things as handling rocks, scrap and logs. Various bucket sizes and widths are available, from 24 to 60 inches wide and from .46 to 1.5 cubic yards.
The bucket provides consistent clamping force so operators can maintain a load no matter the position and operating speed, the company says. Equal force at both sides prevents jaw twisting.
Two different bolt-on cutting edges enable operators to switch between digging and ditching. A variety of tooth options is also available. The bucket sides have tapered plates to reduce wear and improve dumping, the company says.
There are no exposed cylinders or external moving parts and no obstruction in jaw of bucket shell, the company says. It is compatible with hydraulic quick and mechanical couplers, uses the excavator's auxiliary hydraulic circuit and includes standard OEM lugging.
The bucket is made of high-strength steel, and pivot points have hardened, greaseable bushings.