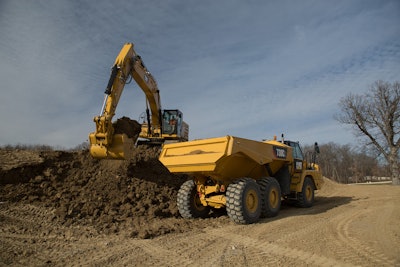 Caterpillar has announced that it will divide its Energy & Transportation segment into two divisions, one of which will focus entirely on the development of electric power generation.
The move comes in the midst of a major reshuffling among Cat's executive office and vice presidents, spurred by a move back home for Tom Pellette, the company's current group president fo Construction Industries.
Pellette, who is returning home to San Diego to spend more time with family, will become a senior vice president of the company and the president of Solar Turbines, a Cat subsidiary that makes and services gas turbine systems and compressors for the oil, gas and power generation industries, according to a press release. Pellette has more than 20 years of experience in this market and he replaces current Cat VP and Solar Turbines president Pablo Koziner. More on Koziner in a bit.
In his new role, Pellette will also serve as a strategic advisor to the Cat executive office.
The chain of new appointments in Pellette's wake, effective March 1, includes his succession as group president of Construction Industries by Ramin Younessi.
In his new role, Younessi, currently the group president of Energy & Transportation, will lead the company's Earthmoving, Excavation, Building Construction Products, China Operations and Global Construction & Infrastructure divisions, as well as Global Rental and Used Equipment Services.
Younessi has more than 30 years of leadership experience inside and outside of Cat.
Succeeding Younessi as group president of Energy & Transportation is Billy Ainsworth, who is currently senior Vice President of the Cat Rail Division and the CEO of Progress Rail. Ainsworth has served as strategic advisor to the Cat executive office in addition to his responsibilities for the Rail Division since 2017, Cat says.
"Billy's customer focus, entrepreneurial background and deep aftermarket experience will continue to benefit the Energy & Transportation business," said Umpleby.
With a transition to a new group president, Cat has decided to split Energy & Transportation into two divisions: Oil, Gas and Marine and Electric Power.
No further detail surrounding the new Electric Division and what its development plans are was given. However, in January, electric car maker Fisker announced that Cat had made an unspecified investment in the company intended to spur the development of "solid-state battery technology with applications in construction, energy, storage, transportation and mining."
The race to fully electric powertrains for heavy equipment is quickly heating up. Hyundai and Cummins made a joint announcement regarding the development of an electric excavator, while JCB's first electric excavator will go on sale this year. Plus, Volvo CE announced plans to introduce as many as 10 electric excavator and wheel loader models at Bauma in April that, by mid-2020, will replace their diesel counterparts in the lineup entirely.
Oil, Gas and Marine will be led by Joe Creed, currently the VP of Caterpillar Finance Services, while Electric Power will be led by Koziner, who, as mentioned above, is a current Cat VP and the president of Solar Turbines. Before working in the financial division, Creed worked in Cat's engine and machine business.
Succeeding Ainsworth as VP of the Rail Division and CEO of Progress Rail is Marty Haycraft, currently the president of Progress Rail's global operations. He has been with Progress since 1993 and has risen through the company, "holding several operations, materials management and sales and marketing management positions," Cat says.
Succeeding Creed as the VP of Finance Services is Kyle Epley, the current corporate controller. He has been with Cat since 1996.