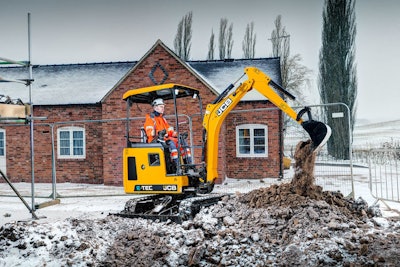 Citing customer demand for a zero emissions excavator that can work in close quarters, JCB will begin selling its very first electric model later this year.
Developed in secret under a project the company says was spearheaded by JCB chairman Lord Tony Bamford, the 2-ton (1.9-tonne) 19C-1 E-Tec mini excavator works all day on a single, six-hour charge. The machine can be charged with a standard domestic electricity supply, the company says. A fast charger, which is capable of cutting charge time in half, will be an available option.
The machine will be able to work indoors, underground and close to people in urban areas, according to a JCB press release. A retractable undercarriage allows it to negotiate tight spaces.
Powered by a 48-volt electric driveline consisting of an electric motor and three lithium-ion battery packs, the excavator will deliver 15 kWh of power, or about 20 horsepower. JCB says the machine will work with the same speed and power as its diesel counterpart, the 19C-1. An improvement over the diesel machine: JCB says the electric drivetrain generates greater torque and does so instantly.
The electric motor drives a Bosch Rexroth load-sensing hydraulic system. Maximum digging depth is 8.4 feet.
JCB says the battery packs used on this machine use the same NMC lithium-ion cells found in the latest electric and hybrid cars and SUVs. The battery pack housing has been designed to withstand the rigors of construction applications.
The company says the 19C-1 E-Tec will be the quietest machine in the JCB range, allowing the machine to work after hours, around hospitals and close to schools. JCB says the machine is five times quieter than the diesel 19C-1.
The excavator will initially be available with a ROPS/TOPS and FOGS-certified canopy. Rocker switches control auxiliary functions and boom offset swing. A switch pad handles additional controls.
A new box section main boom and dipper arm routes houses through the boom structure for added protection. Greasing interval is 500 hours on boom pins and dozer pivot points and all grease points are located on one side of the machine.
Bamford calls the electric machine a "breakthrough" for construction.
"JCB has been at the forefront of developing innovative, low emission diesel powered construction equipment for decades. In fact, thanks to our clean diesel technology, typical JCB machines will be pretty close to zero emissions by next year," Bamford says in a written statement.
"However with urbanisation, machines are operating more closely to people as well as digging underground, indoors, near hospitals and in food production environments. As a result, there is a new zero emissions sector emerging and it's emerging very quickly. It's for this reason we have put ourselves at the forefront of alternative power technologies and developed the first ever electric JCB digger."